9/29/2020
Education and Outreach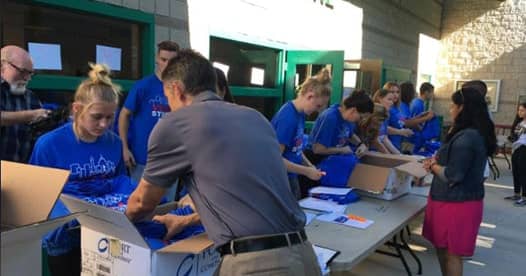 When Kelly Wagner first heard about the Oct. 1 mass shooting, the teacher immediately thought, "I could've been there."
Wagner had faithfully attended the Route 91 Harvest music festival every prior year, she explains, and decided to take a break in 2017.
When she awoke on October 2 to a flood of emails from friends and family asking if she was OK, she felt overwhelmed.
"I was devastated for our community, for my students, and for all those who attended the event and those who ultimately lost their lives," remembers Wagner, who teaches at Green Valley High School. "I felt really familiar with the event grounds, and seeing the pictures over the course of the following days, I knew where I would've been standing and what the outcome could've been."
She also knew children would watch to see how adults responded to these events.
"I often think of the Mr. Rogers quote 'look for the helpers. You will always find people who are helping,'" Wagner says. "I knew we had to do something."
This instinct led her to help spearhead a school initiative that impacted all of Southern Nevada, one of many reasons The Smith Center honored Wagner as one of the top 20 teachers for its fifth-annual Heart of Education Awards, recognizing outstanding Clark County School District (CCSD) teachers.
Just 100 Shirts
It all started with ordering just 100 shirts.
After Wagner met with the school's student leadership teams and the student council advisor in early October, they agreed Wagner would order Vegas Strong T-shirts from a friend in the apparel business.
They would sell the shirts to the school's staff, students and friends on Facebook to raise money for the Las Vegas Victims' Fund.
Then word spread quickly.
"By the end of the week, we knew we had something bigger, and that we could - and should - do so much more," Wagner recalls.
Working with the CCSD Student Activities Office, Wagner and the student leaders generated large orders of T-shirts from over 130 schools.
"When the shirts were delivered, our kids helped unload the truck and spent hours organizing the shirts," she says.
The news media caught wind. Following their coverage, T-shirt orders poured in from across the Las Vegas Valley.
"Over the course of six weeks, we sold 10,354 shirts," Wagner says.
Students Unite
Offering guidance and support every step of the way, Wagner watched students across the school united to organize and distribute the shirts.
The teenagers worked tirelessly over numerous long days to fold, count, refold and re-box every single shirt, she says - multiple times. They coordinated a widespread distribution.
"Watching these young adults handle organizing the fundraiser and the entire crazy distribution process with poise and professionalism was amazing," she says. "We were all teammates in this process, and it honestly gave me hope for our future with these kids in charge."
She further worked with the students to organize a blood drive and supply drive. The school's wood shop program crafted plaques to sell with the shirts. The school theater program further donated $3,000 to support the cause.
"This gave our students an opportunity to shine and rise up to meet their potential – to be part of something bigger than themselves," Wagner says. "Teenagers sometimes get a bad rap, but through this experience we were able to see kids put their community first."
After all of this hard work, the school delivered a check to the Las Vegas Victims' Fund for $66,688.02.
This marked the largest donation to the fund outside of a casino.
"It feels great to have been part of the Vegas Strong shirt fundraiser and to feel like we made a difference," Wagner says. "Working alongside our kids and watching them compassionately participate in an event for our community will always be one of the highlights of my career."
Staying Strong Through Distance Learning
As a Heart of Education Award recipient, Wagner received a $5,000 cash award, thanks to the support of The Rogers Foundation. Her school will also receive a $1,000 donation.
Wagner used her cash award to purchase a new laptop, new modem and upgraded internet that she needed to teach her students remotely.
Throughout the challenges of the pandemic, Wagner sees teachers rising to the occasion and supporting their students, much as they did after the Oct. 1 shooting.
She hopes to see more inspiring stories honored through the Heart of Education Awards.
"There are so many fantastic teachers in the district," Wagner says. "By recognizing their efforts, we can continue to show the community that teachers are essential and truly at the heart of it all."
"There are so many fantastic teachers in the district," Wagner says. "By recognizing their efforts, we can continue to show the community that teachers are essential and truly at the heart of it all."