6/23/2020
Education and Outreach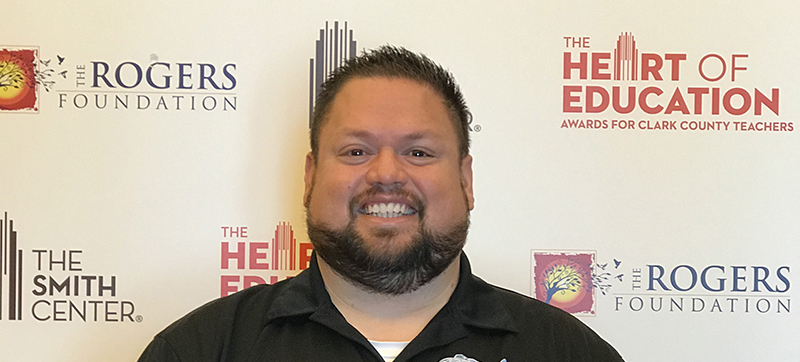 When Clark County School District (CCSD) shut down during the pandemic, teacher Donato Avila immediately sought to remain connected with his students.
Beloved for significantly expanding the mariachi program at Fremont Professional Development Middle School, Avila found ways to continue teaching even with the school closed. He organized one-on-one lessons with student musicians. He scheduled Google Hangout sessions with all of his students together, to check in and boost their spirits.
"I really have tried every avenue to keep my students moving forward and the spark alive," Avila says.
This commitment shows just why Avila was among 20 teachers out of 800 finalists this year to be named a winner with The Smith Center's fifth-annual Heart of Education Awards, honoring outstanding CCSD teachers.
Avila's impact even exceeds the school district, with his initiatives promoting mariachi education and awareness across the state and country.
"(Receiving a Heart of Education Award) was validating of all the hard work my staff and I put in year after year," says Avila, who learned of his award through a surprise Zoom call with Myron Martin, president and CEO of The Smith Center. "We do it for the students, but it is great being recognized."
Spreading the Love for Mariachi
Avila still remembers the first time he heard mariachi music. As a high school student, he happened to catch the mariachi class practicing before school, and became mesmerized.
"I saw everyone just watching them rehearse and I was in awe," he says. "I joined my freshman year and grew to love the whole idea of it."
Now, he brings that passion to his own mariachi program. Since he started with Fremont Professional Development Middle School in 2010, his program has received regional and national recognition.
Thanks to his dedication that includes rehearsals outside of class and during the summer, his students have performed at NBA Summer League, Disneyland and prominent competitions across the U.S.
"The students get to see others from around the country, and that helps push their want to succeed," he says. "Some students don't often get out of Las Vegas, maybe not even out of their neighborhoods, and to take them somewhere on a plane or a bus is very exciting."
He also promotes collaboration among students, including with the Mariachi Madness event he created. Featuring over 300 musicians and students from 14 schools, the event showcases mariachi music for Southern Nevadans and raises much-needed funds for instruments and uniforms.
"I think my students gain confidence and a sense of pride," he says of learning to play mariachi. "It also shows them that hard work can be fun."
On Pause During the Pandemic
The pandemic has slowed some of Avila's efforts.
Recently appointed Mariachi Chair of the Nevada Music Educators Association, he had been organizing one of the nation's first all-state mariachi events. Due to health and safety guidelines, this event is on hold until next year.
Avila feels most strongly about his students missing out on their final school-year performances.
"The end of the school year is usually the chance to showcase the fruits of their labors, and this year they were robbed of that," he says.
He hopes to organize a special musical send-off soon, as well as summer rehearsals, but nothing can be predicted yet.
Still Honoring Teachers
Avila lauds that The Smith Center still recognized 20 top teachers for this year's Heart of Education Awards, even though the celebration event was cancelled due to public health and safety guidelines.
"It means I didn't have to cry on stage in front of thousands of others just like me," he teases. "I think (this awards program) is so important, because there are outstanding teachers out in the world that don't get recognized and should be."
Each of the 20 award recipients receives a $5,000 cash award, plus a $1,000 donation to their school.
With his optimism boosted by the award, Avila looks forward to diving back into mariachi with the next school year.
"If I have had a positive impact on these students and helped them in any way, that is a win for music education," he says.