7/27/2020
Education and Outreach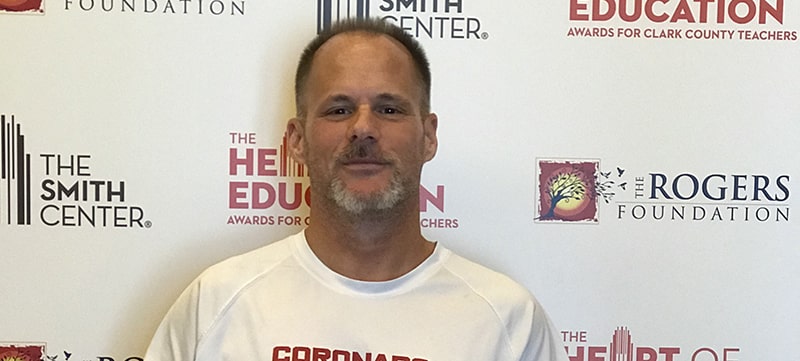 As a young man, Robert Cuccurullo struggled with substance abuse.
"It was a tough road there for a while," says Cuccurullo, who later also suffered from post-traumatic stress disorder (PTSD) after spending 10 years in the U.S. Army, including serving in the first Persian Gulf War.
But Cuccurullo successfully overcame his substance abuse and PTSD and at age 41, returned to school to receive a Bachelor of Arts in history and education.
After graduating with high honors, Cuccurullo became a special education teacher, teaching middle social studies to students with behavioral disorders in New Jersey. Seven years later, Cuccurullo joined Clark County School District (CCSD) where he says he has truly found his calling as a sports coach and social studies teacher.
"My earlier challenges in life helped me become the person I am today, and I wouldn't have it any other way," says Cuccurullo.
Earlier this year, The Smith Center recognized Cuccurullo's inspiring story and awarded him as one of the 20 top teachers for its fifth-annual Heart of Education Awards, celebrating outstanding CCSD educators.
Cuccurullo says it was "awesome" to win and a validation of the work he does.
A Passion to Coach
Currently the head junior varsity football coach at Coronado High School, Cuccurullo has had many athletic coaching roles over the years.
"One of the reasons I decided to be a teacher was to have the opportunity to be a coach," says Cuccurullo, an avid baseball fan.
Upon joining CCSD in 2016, Cuccurullo organized and ran an after-school flag football league, with more than 50 students participating. With the help of his principal, Cuccurullo was also able to organize and manage the school's first girls' softball team. With no other CCSD teams to play, he reached out to some of his private school colleagues and together they created a five-team league.
As a freshman football coach at Spring Valley High School, Cuccurullo led his team to an 8-1 record losing only to the formidable Bishop Gorman High School. He also helped to coach the Spring Valley girls' junior varsity basketball team and the girls' junior varsity softball team.
Success Through Building Relationships
Cuccurullo believes that making his students and athletes feel like they can trust him is extremely important.
"Some of these kids don't have any role models," says Cuccurullo. "It's the way you treat them that makes all the difference."