7/13/2020
Education and Outreach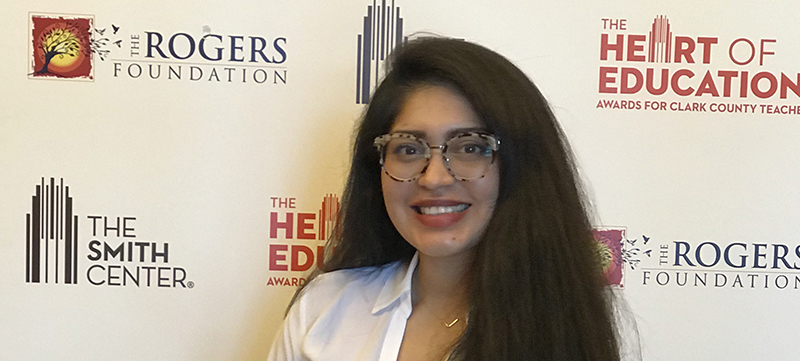 Last year, teacher Claudia Ahumada hosted a special birthday party.
Instead of accepting presents, she asked friends, family and community members to donate birthday gifts for low-income students at her school, Matt Kelly Elementary School, with her house as the drop-off site. She also raised funds for additional toy purchases and a field trip.
Heartened by that day's success, Ahumada cranked her idea up a notch.
Earlier this year, she hosted a large-scale event at the downtown Container Park, where community members could donate birthday gifts for students and enjoy a variety show by Vegas performers.
"It was truly a community effort," she says. "Having everyone come together was so heartwarming."
Ahumada won't soon forget the children's enthusiasm at the school's monthly birthday celebrations.
"We sang them Happy Birthday and they would come to the front for their cupcake. They would then meet with the counselor to choose their toy," she says. "This made all the work put into receiving gift donations worthwhile."
These mark just a few of Ahumada's selfless teaching efforts.
To honor her inspiring work, The Smith Center recognized Ahumada as one of the 20 top teachers for its fifth-annual Heart of Education Awards, celebrating outstanding Clark County School District (CCSD) educators.
In spite of the cancellation of the annual awards event due to public health and safety guidelines, each honoree still receives a $5,000 cash award, thanks to support from The Rogers Foundation. Each winner's school also receives a $1,000 donation.
"I felt an overwhelming amount of happiness and appreciation," Ahumada says of the honor, which she learned about through a surprise Zoom conversation with Myron Martin, Smith Center president and CEO. "The name of this award is exactly what it highlights in a teacher — their heart."
Supporting Girls of All Colors
Ahumada shapes the lives of many African-American students, as co-facilitator of the Pretty Brown Girls after-school program.
With the initiative targeting to empower, engage and educate young girls, Ahumada leads students in projects and activities to find confidence and inspiration.
This includes judgment-free conversations about beauty and strengthening character, as well as projects researching and honoring women who impacted history.
"We remind them of their power to become leaders in and outside of the classroom," says Ahumada, who also volunteers for the Nevada Youth Network and the Just One Project mobile food pantry. "In order to create change, we sometimes have to be the ones to motivate and serve as examples to others."
Staying Positive Through the Pandemic
After CCSD closed due to the pandemic, Ahumada continued to connect with her students and their families by providing instructional packets, organizing Google Hangouts sessions and simply communicating with phone calls.
Even with so much uncertainty about the upcoming school year, she remains positive.
She plans to use the $1,000 donation to her school to fund materials for the Pretty Brown Girls program. She looks forward to empowering students through this and many other efforts.
"We will never really know the true impact we have on our students, because it's a ripple effect," Ahumada says. "Our students will create ripples with others, and it begins with kindness and understanding."