7/6/2020
Education and Outreach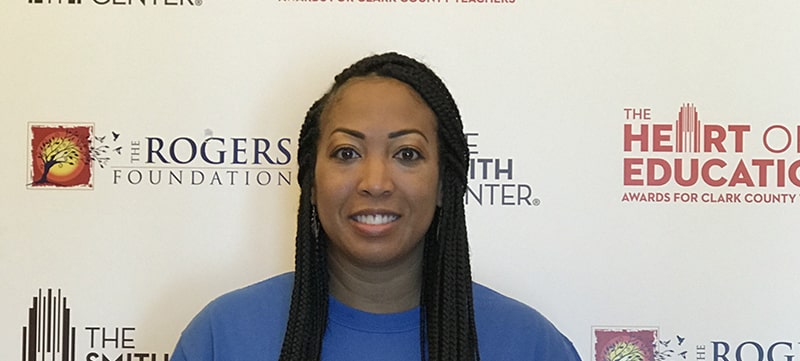 When one of Michelle Taylor's former kindergarten students called her in 2015, she heard fear in his voice.
That's because the young boy's mother — both of them living in Laramie, Wyoming — was suffering a stroke.
"Though his neighbors were home, and his uncle lived an hour away, he called me because of our trusting relationship," says Taylor, a teacher at Mabel Hoggard Elementary School.
Calming down the crying boy, she quickly called emergency services, saving the woman's life.
Asking another teacher to take over the students she had been tutoring, she contacted the mother's family about the emergency.
"I stayed on the phone with (the student) until the ambulance arrived," Taylor says. "I told him that I was proud of him for helping his mom, and that she would be okay."
Years later, Taylor still remains closely connected with the pair through weekly Facetime chats. She even stays at their house every summer vacation.
"Just like a family, we spend quality time together," she says.
This encapsulates Taylor's approach to teaching. She considers all of her students family, and offers support during difficult and desperate times when people need family most.
"(My former student in Wyoming) knows, just like all my students know, that I love him and only want the best for him," she says.
Honored for Selfless Work
For all of these reasons and more, The Smith Center honored Taylor as one of the 20 top teachers for its fifth-annual Heart of Education Awards, celebrating outstanding Clark County School District (CCSD) educators who go above and beyond for their students.
Despite the cancellation of the annual awards celebration for public health and safety guidelines, each honoree still received a $5,000 cash award, thanks to support from The Rogers Foundation.
"I honestly was in shock," Taylor says of learning about her award in a surprise Zoom call with Myron Martin, Smith Center president and CEO. "Honoring a few teachers each year helps the public realize the depth of sacrifices that are made, and hopefully encourages everyone to work better together."
Help Through Dark Times
Even at their young age, many of Taylor's students experience traumatic circumstances and conflict.
She places strong focus in her classroom on helping students connect with their emotions and participate in judgment-free discussions, where students share their grief, dreams and friendship.
"I enjoy providing students with the security of a family and a sense of belonging and purpose in my classroom," she says.
These classroom discussions have helped students' families find counseling and heal from loss.
When one student's father died unexpectedly, leaving his illiterate mother unable to provide food and clothing for her four children, Taylor came to their aid.
She personally purchased food and clothes for the family, and conducted a school-wide drive for additional support.
"We spoke different languages, but she knew she could trust me," Taylor says.
She also buys daily snacks for her class, as some students attend school on empty stomachs.
"I refuse to let a lack of money or basic needs be the reason why my students are not learning," she says.
Support at a Social Distance
Taylor supports her students with this same dedication throughout the pandemic.
After CCSD shut down, she paid for internet services for two months for a student's family, until they qualified for a support program.
Even during the summer, she still conducts one-on-one writing instruction with students, and continues to provide online reading and math assignments for interested families.
"Parents know that I am available during the summer and am only a call or Facetime away," Taylor says. "I don't judge situations, I just try to fix problems, while ensuring my students feel loved, supported and secure."