6/17/2019
Performances and Artists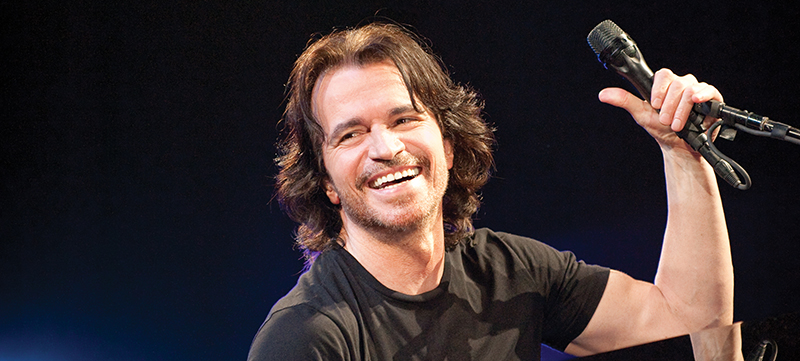 New-Age music icon Yanni has never suffered from lack of inspiration.
Raised in a small fishing village in Greece, he still remembers growing up within a half-hour drive of Sparta and "3,000 year-old monuments" — all of which laid the foundation for his musical aspirations.
"When the time came for me to create, I thought, 'what could I write with music that would last more than a week or a year?'" he recalls. "I look at the Parthenon that is 2,500 years old and still here, and admired around the world. Whoever was the creator of that reached for the stars, and that's very inspiring."
This deep-rooted ambition is just what fueled Yanni — who returns to The Smith Center to perform his lush, sweeping melodies on October 6 — to carry himself from his humble beginnings with a poor family in Greece to becoming a global music phenomenon.
But he faced big risks along the way.
"Fear, I feel it like everybody else. But I don't stay in it," Yanni says. "I spend most of my time positive, just thinking, 'your dream will come true.'"
Starting at the Bottom
Yanni's first instinct was to play it safe.
When he came to America in his late teens, he obtained his bachelor's degree in psychology, just in case his musical aspirations didn't solidify.
He then made a deal with himself: He would take just one year to try music "for real."
"You can imagine me calling my mother and father back in Greece to tell them, 'I'm not going for the Ph.D., I'm just going to stay and play with some rock 'n' roll bands at local clubs," he remembers with a laugh.
That year marked the happiest days of his life, he adds. He knew he would pursue music, regardless of whether he made money.
"I was committed," he says.
This proved fortunate, as music producers informed the 21-year-old Yanni that his vision of all-electronic music held no appeal.
"Back then, nobody even knew what synthesizers were, and they said, 'this is not real music,'" he explains. "The chances of a boy from Greece doing that kind of music in that time with just electronic keyboards, the chances of success are zero."
Gambling Everything
After experimenting with his sound in his early albums, Yanni determined that to find success, he had to risk it all.
He poured all of his savings into staging an elaborate concert at the Acropolis in Athens — home of his muse, the Parthenon — for a live-concert album and video.
With this epic performance featuring himself playing his original music, backed by a full orchestra, Yanni went bankrupt funding it all himself.
"My accountant was crying when she saw the money going out," he remembers. "My record company didn't want to support me. They said, 'this is crazy. Who's going to buy an album with a guy named Yanni they don't know, playing in some ruins in Greece with some old symphony orchestra?'"
Yanni still remembers second-guessing his choice when the project's director estimated the album would sell maybe 100,000 copies.
"I thought, 'we're going to end up with the most expensive home video ever made,'" Yanni recalls.
Of course, their estimate proved wrong.
The album has sold over 7 million copies, spawning an international music legacy for the Greek artist.
"The rest is history," Yanni says. "It made my career."
With 2018 marking the 25-year anniversary of the fated Acropolis concert, Yanni now looks back on an astonishing music career that spans 14 studio albums, seven live albums, two Grammy nominations and becoming the first artist in history to perform at the Taj Mahal in India and the Forbidden City in China.
He attributes everything to his lifelong propensity to dream.
"If you don't dream, I don't think you live," he says. "But it's not just enough to have a dream, you have to really go after it with passion. I think I'm a good example of that."
Yanni performed as part of the 2019-2020 season.