9/12/2019
Education and Outreach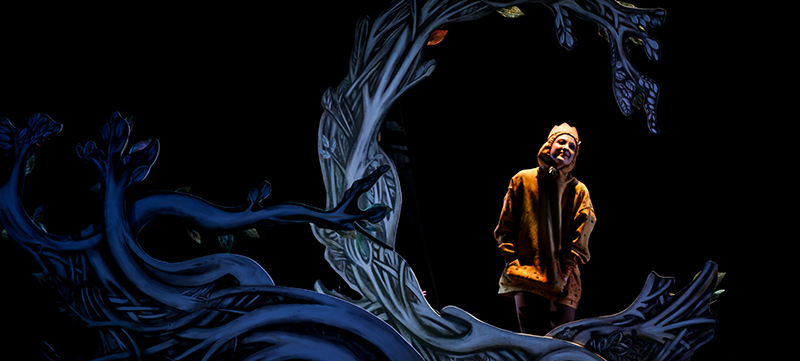 Josiah Boyd admits that for most of his childhood, he thought performing on stage was just for "girly guys."
That is, until he saw Wicked at The Smith Center, shortly before he started high school.
"I remember lying in bed and constantly thinking about it, like 'that was awesome. I want to be a part of that,'" recalls the Las Vegas resident, now 20.
The production's lavish sets and electrifying musical numbers still topped his mind when it came time to register for classes… And he found himself signing up for theater.
"It was the best thing that really ever happened to me," says Josiah, who participated in Advanced Theater for three years.
He conquered his stage fright and dived into characters that "I still reference today," he says. He forged lasting friendships with students he might not have otherwise met.
"It was a (theater) family that I will forever be a part of," he says. "It was the first time I got to be part of something that was bigger than me."
Josiah represents many community youths transformed after seeing live theater productions.
While going to the theater offers entertainment and quality time for families, watching mesmerizing performances and seeing characters address real-life situations can also provide lifelong lessons and inspiration.
"(Going to live theater) is definitely a great tool for families to not only have a little bit of entertainment, but to also have a conversation with your kids," says Rebecca Boyd, Josiah's mother, adding that theater shows have prompted family discussions on intolerance and more. "You can start in the car with 'what did you think about this?' and bring it back into our everyday lives."
Facing Difficult Topics
Josiah isn't alone in feeling affected by theater.
Many hail live performances for teaching young viewers empathy, by depicting complex scenarios on stage.
Josiah's brother Joel, 17, still touts Broadway musical Dear Evan Hansen for its lasting impact on him, through its weighty storyline addressing bullying and inclusion.
"It definitely helped me with conversations at school," Joel says.
The show gave him an avenue to discuss serious topics with his peers, he explains. He expects the show's emphasis on communicating emotions to guide his decisions for ongoing years.
"If I hadn't seen that show, I might not have learned that it's better to not push things aside and to talk about feelings and open up with one another," he says.
Seeding a Lifelong Passion
Children and youths can gain in other meaningful ways from live performances, says Axa Aguilar, manager of special programs with Girl Scouts of Southern Nevada.
Her organization often coordinates group outings to Smith Center performances such as The Lion King and Charlie and The Chocolate Factory, with the aim of introducing young girls to a new experience and possibly sparking interest in a future career path.
"It's a little bit out of their everyday lives to be able to go do this," Aguilar says. "By being there, they might decide, 'I want to be an actress, or a ballet dancer, or a behind-the-scenes person.'"
Experiencing theater also encourages children to discover a love for the arts that can bring them inspiration and joy throughout their lives, notes Las Vegas resident Lauri Thompson.
"I will cherish the times we brought (my sons) to The Smith Center for the past seven years," Thompson says. "I've heard that we often gravitate in our adult lives to what is familiar to us from our childhood. That means I have a good chance that my boys will become patrons of the performing arts."
Family Programming Sponsored by

All patrons must have a ticket, regardless of age. No babes in arms. Children under 16 must be accompanied by a parent or guardian.