2/4/2017
Performances and Artists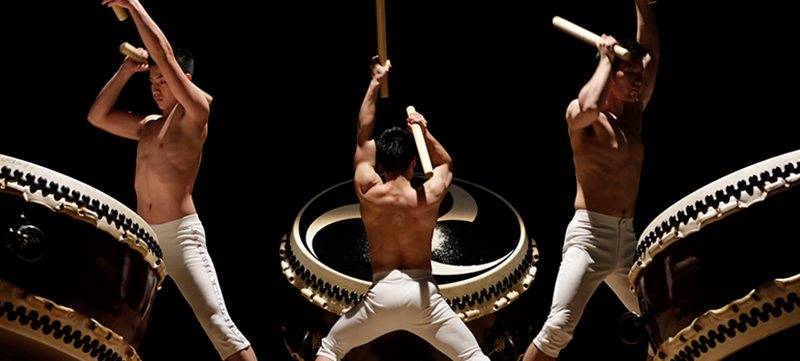 It's 5 a.m., and time for a 5k run, back and forth along a steep incline.
Next comes preparing a meal from scratch. Beyond that stretches a long day packed with training regimens.
Just the start of another day for those in training to join the Taiko drumming group Kodo.
"This is the very fascinating thing about Kodo," says spokesperson Yui Kawamoto. "All the performers go through this basic training."
Two Years of Training
Physical prowess, plus an intricate knowledge of Japanese history and culture, are paramount to performing in Kodo. For decades, this drumming group has performed Taiko, the ancient Japanese form of percussion with large drums.
That's why those who wish to join this legacy must graduate from a two-year apprenticeship, which involves living and training on the rural Sado Island off the coast of Japan.
"These two years before they go on stage is very strict," Kawamoto emphasizes.
Besides rigorous training on Taiko drums each day, the apprenticeship includes a daily run, cooking every meal and taking classes on Japanese culture, including farming, pottery, singing, dancing and Noh theater.
"You can't just play Taiko and be a Kodo performer," Kawamoto says. "You need to know the mannerisms and cultural knowledge behind everything that goes into the art of Taiko."
The physical exercise is essential, she adds, because "it takes a lot of athleticism" to play the immense Taiko drums.
The handful who pass exams after the apprenticeship go on to perform around the world with the group.
"If you get rejected, you can't repeat (the apprenticeship)," Kawamoto notes. "You have to just go home."
Benefits for the Brain
Taiko drumming offers a variety of health benefits, Kawamoto says, including for childhood development and diseases like Alzheimer's and dementia.
The process of learning and performing rhythmic patterns stimulates the brain, she explains.
"The act of remembering rhythms and playing is said to be very good for dementia care," she says, noting that some Kodo performers have been playing more than 40 years.
Percussion therapy is often used with Alzheimer's patients, with various studies suggesting that drumming helps synchronize the left and right hemispheres of the brain.
Drumming also seems to evoke a positive feeling, Kawamoto notes, which Kodo often sees in its audiences.
"We can't wait to travel the world and share that musical experience," she says.
Kodo: DADAN was a part of the 2016-2017 season.