7/13/2018
Community Impact / Inside the Theater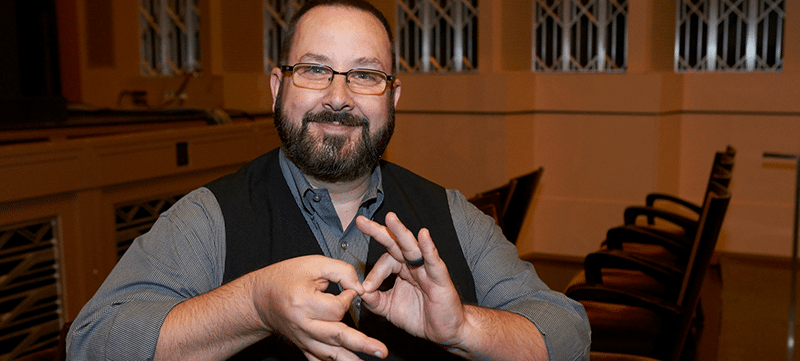 Weeks before "Hamilton" came to The Smith Center, Whitney Hobbs started preparing for the show.
She listened obsessively to the soundtrack to memorize all 46 songs. She studied the script and met almost daily with her coworkers to rehearse each scene.
"I'm pretty sure I can recite the entire show alone," Hobbs says with a laugh.
Hobbs is not an actress.
A Las Vegas resident, she is one of the locally based, certified American Sign Language (ASL) interpreters regularly contracted to provide ASL interpretation during Broadway productions at The Smith Center.
While some might assume that ASL interpreters simply show up and interpret productions on the fly, a tremendous amount of prep work and strategy is actually involved.
"We're practicing in our cars, in our homes. We're sending texts to each other that say, 'What do you think about this?'" Hobbs says. "It really is a lot."
Inside the Process
To interpret each full-length Broadway show at The Smith Center, two ASL interpreters usually take on performances together, interpreting side-by-side near the stage.
Each interprets the lines of specific characters in the show — allowing the pair to clearly communicate the complex interactions occurring on stage, including conveying the emotions behind each line.
This requires no little preparation.
"About a month out from the show, we'll download the soundtrack, request a copy of the script, and come up with a rough plan of 'I'll play this character, and my team member will play this character,'" says Michael Bodak, also a certified ASL interpreter contracted by The Smith Center. "Then we meet as often as we can and practice, practice, practice until the show."
To ensure the most accurate and comprehensive interpretation, they memorize each Broadway show's entire soundtrack and dialogue, Bodak adds.
"For a venue like The Smith Center, we feel that we need to ensure we're not breaking that fourth wall by reading a script (as we sign)," he says.
The ASL interpreters must walk a fine line of portraying each character's dialogue and emotions, while not overshadowing the actors on stage, Hobbs notes.
"During our practices, we don't have a problem telling each other, 'You need to tone it down a bit,'" she chuckles. "We give each other reminders to make sure we're staying in the role of interpreter."
Every Show Presents a Challenge
One of the most important steps for the ASL interpreters is previewing each Broadway show to grasp the full context of every scene.
"Watching the show can change our interpretation," Hobbs notes. "One look by an actor can make the whole audience laugh, whereas on the script we don't see that."
Every show presents a unique challenge, she adds.
Take "Hamilton," jam-packed with dozens of songs, a huge cast and rapid dialogue.
Juggling it all required utilizing three ASL interpreters together, instead of the usual two.
"(Coordinating interpretation with three people) is not physically easy to do," Hobbs says.
Other challenging shows have included "Flashdance the Musical," which had no recorded soundtrack to study beforehand, and "Idaho! The Comedy Musical," The Smith Center's first original musical, which was undergoing script changes mere days before the opening.
"We do detective work," Hobbs says of overcoming such challenges. "We contact friends, go on YouTube, see if anybody knows anything more about these shows."
Joy in Each Performance
Even with so much work, these ASL interpreters still love the theater.
So far, Hobbs' favorite show to interpret at The Smith Center was "Once," because she loved the music and the engrossing storyline.
For Bodak, it was "Something Rotten!" for its amusing characters who he found fun to interpret.
When the interpreters enjoy themselves, Bodak adds, it helps them fulfill their purpose: Ensuring the patrons relying on their interpretation enjoy an enriching theater experience.
"The theater brings together both the hearing and Deaf communities," Bodak says. "It's escape and enjoyment for all. I think it's vital to provide services that give all of our Las Vegas community the opportunity to enjoy live theater."
Accessibility Services at The Smith Center
ASL interpretation is offered free of charge during select performances at The Smith Center. To receive sign language interpretation by request, submit a query at least two weeks in advance of the performance to: [email protected]. ASL interpretation is subject to availability.
The Smith Center offers additional accessibility services such as handheld closed captioning and FM assistive listening devices recently donated by Desert Valley Audiology.
For more information on accessibility services at The Smith Center, click here.