5/29/2019
Inside the Theater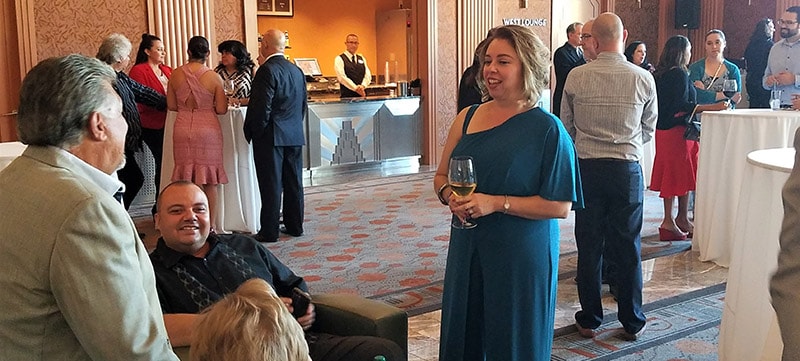 Enjoy Special Savings and Customized Experiences by Seeing Shows as a Group
Interested in getting tickets to the hottest Smith Center shows months in advance, and with special savings?
If so, Patrick Vinson has a tip.
"The next time you are with friends at work, school, church or anywhere, mention the idea of attending a show here," says Vinson, manager of group sales at The Smith Center. "Pick a show and tell your friends, 'let's go.' Then telephone our group sales line."There are a wide range of benefits for enjoying shows as a group at The Smith Center, he adds.
Any group of generally 10 or more that purchases tickets together — be they friends, families, coworkers, church groups or otherwise — will receive a host of special perks.
Just a few of these include access to show tickets months ahead of the general public, and with up to 15 percent savings and single-ticket fees waived.
"Often it's cheaper to buy 10 tickets at the group rate than eight or nine at regular price," Vinson explains. "Many of our shows completely sell out. By reserving as a group way in advance, you are guaranteed to get the best seats available, in the price range you can afford."
Vinson helps groups of all sizes and age groups arrange everything they need.
And he loves every minute of it.
"I enjoy selling tickets to high-quality shows that people want to attend," says Vinson, who draws from 20 years of experience with ticketing departments of top Las Vegas shows. "Our purpose is to provide quality entertainment for Southern Nevadans."
Make a Memorable Night for Your Group
Beyond advance access to show tickets, groups can also arrange for special experiences at The Smith Center.
Many groups schedule private pre-or-post-show receptions at elegant spaces throughout The Smith Center campus, for instance, such as Myron's Cabaret Jazz.
"It's much classier than the back room of a restaurant," Vinson points out, noting that The Smith Center's concessionaire can accommodate most food and beverage requests.
Some groups have also arranged meet-and-greet events with show cast members, as well as backstage tours of The Smith Center.
Members of the Latin Chamber of Commerce were thrilled to eat and mingle at the group's pre-show reception at The Smith Center, before watching Broadway musical "On Your Feet" together.
"This is an extra (benefit) that we didn't expect," said chamber member Cesar Vinaco. "It's a great opportunity to come to The Smith Center."
Anyone Can Make a Group
Vinson can give a long list of groups he often works with, including senior communities, scout groups, church groups, homeschool families, Meetup groups, Red Hat Society chapters, school alumni, and tour operators from Phoenix, St. George and Salt Lake City.
Any group of people can purchase tickets together, he emphasizes, whether or not they're part of an official organization.
"If you have kids aged 5 years and older, get the family together and bring them to a show," he offers.
The Girl Scouts of Southern Nevada often arranges Girl Scout nights at Smith Center shows — including "The Lion King" and "Charlie and The Chocolate Factory" — by offering tickets to all of its member troops and their families.
"We feel this is a great opportunity for the girls," says Axa Aguilar, manager of special programs with Girl Scouts of Southern Nevada. "By being there, they might decide, 'I want to be an actress, or a ballet dancer, or a behind-the-scenes person.'"
All kinds of groups can enjoy these special experiences, Vinson adds.
"Your opportunity to create that memory is now," he says.
Get Tickets for Your Group
To purchase group tickets at The Smith Center, visit www.thesmithcenter.com/shows-tickets/group-tickets, or call 702-749-2348.