8/12/2019
Family Programming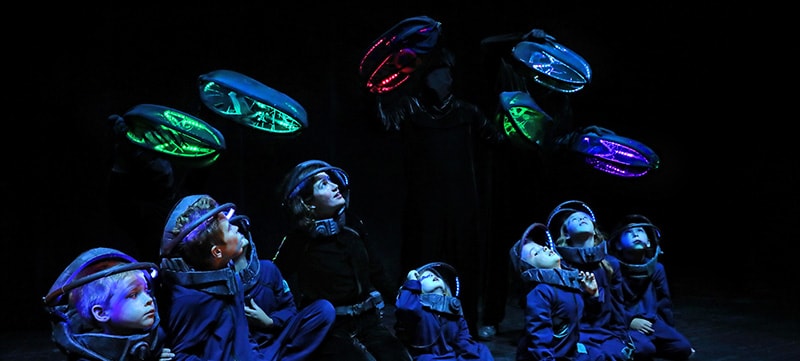 For Nicole Neal, taking her 6-year-old daughter to performances at The Smith Center serves as much more than just entertainment.
Many of the shows provide fun learning opportunities, including reading the literary source material together beforehand, or discussing music and characters afterward.
"That really helps build a connection to the (shows), so she can relate to it," the Las Vegas mother says.
These performances also introduce her child to live theater, and often weave in powerful messages that can help build her daughter's character.
Best of all, attending performances provides a delightful night out for the family, to forge lasting memories.
"I just think a love for the arts will make Audrey a more well-rounded person," Neal says.
Many families can experience these same benefits.
Due to high demand from The Smith Center's patrons, it will present several whimsical family shows this season, with accessible pricing starting at $14.95.
Featuring thrilling audience participation⁠ — and beloved characters kids will recognize from books and television ⁠— these shows include
Erth's Prehistoric Aquarium Adventure, Double Dare Live! What Do You Do with An Idea, The SpongeBob Musical and Dr. Seuss' How the Grinch Stole Christmas! The Musical.
Read more below about how kids can gain from experiencing live performances.
Learning with Puppets, Sea Creatures and Dance
Many family shows at The Smith Center are offered as special evening performances of productions presented for student matinees, seen by thousands of Southern Nevada students.
Often adapted from literature, these productions mix educational topics with toe-tapping music and silliness, which kids find entertaining and uplifting.
This season includes Erth's Prehistoric Aquarium Adventure, showcasing enormous, lifelike puppets of prehistoric, marine reptiles — including glowing moon jellyfish, long-finned plesiosaur babies, and a fearsome-toothed koronosaurus.
With children invited on stage to interact with the show's immense creatures, this show combines puppets with technology, actors, science and comedy.
The Smith Center will also present What Do You Do With an Idea, based off the bestselling children's book.
This joyful production combines infectious original music and dazzling choreography, to portray a magical world where ideas grow and take flight.
Sparking Meaningful Conversations
Seeing live theater as a family can also lead to discussions of important topics that might otherwise be difficult to broach.
Many family-friendly productions at The Smith Center involve powerful messages spanning bullying, clashing cultures and more, providing a common ground for parents and children to talk through afterward.
This season offers such opportunities with "The SpongeBob Musical." While featuring beloved characters who kids recognize ⁠— and original music by megastars like John Legend for adults ⁠— the production also focuses on a message of inclusion and unity.
Seeing characters address challenges on stage, and discussing these topics as a family afterward, can often help kids prepare for real-life circumstances and enhance critical-thinking skills.
Socialization Outside the Digital World
A great advantage of live theater is just that ⁠— it's live.
Seeing live productions removes children and youths from an increasingly digital world, to encourage socializing with family and friends.
Plus, many productions involve audience participation, giving kids a fun and comfortable environment to interact with others and explore new, hands-on experiences.
This season offers an ideal opportunity for just that, with Double Dare Live.
Based off the popular Nickelodeon TV show Double Dare, this production chooses audience members to compete by answering trivia questions, completing messy physical stunts and running the obstacle course.
Kids can also see beloved literary characters come alive with Dr. Seuss' How The Grinch Stole Christmas! The Musical.
Featuring the hit tunes fans know and love from the classic movie, such as "You're A Mean One Mr. Grinch," as well as sets and costumes inspired by Dr. Seuss' original illustrations, this show delivers a lively story ideal for hooking children's attention.
All patrons must have a ticket, regardless of age. No babes in arms. Children under 16 must be accompanied by a parent or guardian.
Family Programming Sponsored by