10/21/2019
National Geographic Live / Performances and Artists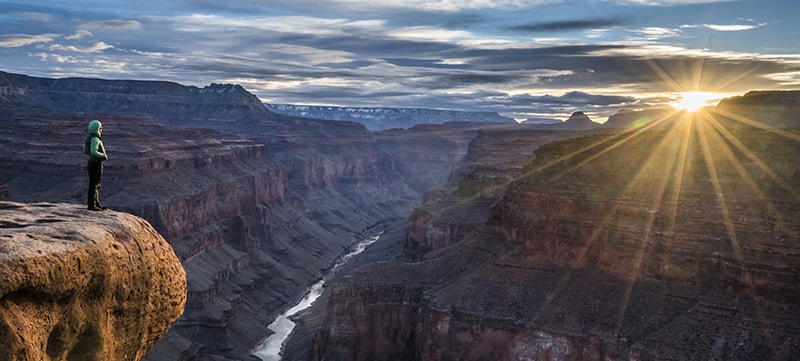 Longtime Friends Discuss Hiking the 750-Mile Grand Canyon in National Geographic Live! Show
Many close friends share exciting experiences through the years — but few that compare to those of longtime pals author Kevin Fedarko and photographer/filmmaker Pete McBride.
Across their 20-year friendship, this intrepid pair has covered the world's most stunning wonders on assignment together, spanning Africa, Mt. Everest and remote gems in between.
And all of this in spite of the fact that they are "complete opposites," McBride notes, adding that they have a genuine "odd couple friendship."
So it's not surprising that McBride and Fedarko decided to partner on one of their greatest challenges yet: hiking the full 750-mile length of the Grand Canyon with no one but each other.
"We wanted to see for ourselves the sublime beauty of this iconic landscape, and understand how it is threatened to change," McBride says.
They accomplished this, but not easily.
Even with taking numerous precautions, McBride describes their journey as "the hardest of my life, physically and mentally, but also the most beautiful and profound."
Curious what they discovered? Or simply wondering how they survived?
The two will deliver an immersive and engrossing account of their journey — while also highlighting their other global adventures — in a National Geographic Live! presentation on November 21, which will include engaging film clips, mesmerizing photos, detailed narratives and more.
"It will be full of humor, unexpected ideas, moments of reflection, lessons learned and possibly even dancing," McBride promises.
Globetrotting Adventures
McBride and Fedarko had many reservations about embarking on this arduous quest, McBride admits.
But he is no stranger to harrowing journeys. McBride has photographed on assignment in over 75 countries, including trekking across the Himalaya in India, confronting aggressive government officials in African nation Djibouti, and taking on the inhospitable elements of Antarctica.
"For me, photography is like a passport to the world," he says.
While McBride initially pursued photography solely for the chance to explore remote corners of the globe, however, chronicling nature's wonders eventually led him to use his artform for raising awareness of conservationism.
"I now go to places, some remote, some not, as a way to inform people why we should care about our shared wild places and why we should protect them," he says.
For all of the two professionals' differences in personality, Fedarko shares this passion for the environment.
Working as a part-time guide in Grand Canyon National Park, Fedarko's storied reporting career includes serving as senior editor of "Outside" magazine and authoring New York Times bestseller "The Emerald Mile: The Epic Story of the Fastest Ride in History Through the Heart of the Grand Canyon."
Naturally, both were drawn to exploring the vast breadth of one of America's greatest natural treasures.
"(We wanted to understand) what, beyond time, is poised to transform it," McBride says.
A Multimedia Journey
During the National Geographic Live! presentation, audiences will see and hear firsthand why this pair feels so passionately about saving the Grand Canyon.
Both applied their acclaimed gifts during their hike, with McBride shooting photos of breathtaking vistas witnessed by few humans before. He also shot footage for an award-winning National Geographic feature film.
Fedarko likewise penned the pair's travels for a popular National Geographic story that became a bestselling book.
While discussing their personal accounts, McBride will also feature his many stunning photos and film footage, with Fedarko also sharing his prose.
They will also give amusing insights into their quirky friendship and highlight stories of their global misadventures, McBride adds.
"We hope to inform people about the state of our national parks — how remarkable they are, but also how they require each generation to commit to protecting them," he says.
The National Geographic Live presentation "Between River and Rim – Hiking the Grand Canyon" was a part of the 2019-2020 season.