11/26/2019
Performances and Artists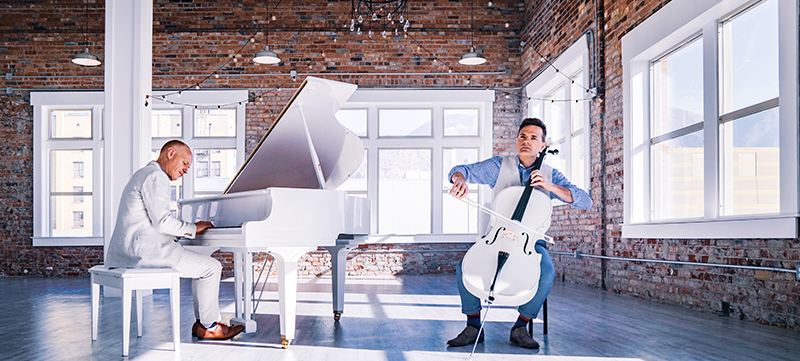 The Piano Guys Perform New, Hit Mash-Ups of Pop, Classical and More
Instrumental-music phenomenon The Piano Guys holds a simple standard for choosing its tunes.
"We have 16 kids between the four piano guys. We try to pick something they'll like," says Jon Schmidt, the group's pianist.
This method seems pretty ironclad.
The groundbreaking group — comprised of Schmidt, cellist Steven Sharp Nelson, producer-videographer Paul Anderson and producer-songwriter Al van der Beek — boasts over 1.2 billion YouTube views of its music videos.
Performing energizing mash-ups of hit pop tunes, movie music and beloved classical pieces, The Piano Guys serves up instrumental music with a fresh, upbeat approach appealing to wide audiences.
This includes the group's newest covers of popular film music from "The Avengers" and "Avatar," plus rollicking instrumental versions of pop hits such as Bastille's "Happier" and The Beatles' "Yesterday."
"We're just having fun, and people are enjoying it," Schmidt says.
The Piano Guys has earned a global following from its members' electrifying performance style, with experimental techniques such as a cover of One Direction's "What Makes You Beautiful" played with 10 hands on piano.
"I just feel really fortunate to have four guys with super creative minds," Schmidt says. "We like to try crazy and new things."
A Fated Beginning
For all of The Piano Guys' complex arrangements and elaborate performances, the group originally came together unexpectedly several years ago.
A solo performer at the time, Schmidt agreed to shoot some social media videos with his friend, piano-store-owner Anderson, to boost sales.
Showcasing Schmidt playing pianos in unusual, outdoor settings, the videos attracted so many views that the pair invited Nelson to join in on cello. Van der Beek started assisting with arranging and recording.
"The videos went viral, and we decided, 'We can probably go into business doing this,'" Schmidt remembers.
They went on to make instrumental-music history, by securing a recording deal with Sony and rapidly earning a Gold Album. The group now performs worldwide in leading venues, such as Carnegie Hall and the Royal Albert Hall.
"Within a couple of years, we were able to show up at any major city in any part of the world, and fill a concert hall," Schmidt says. "It's just mind blowing."
Featuring Fresh Hits
The Piano Guys showcase the group's newest hit mash-ups and covers at their shows, all featuring the artists' lively and interactive performing style.
"The greatest feedback we get is that people like our live shows better than our videos," Schmidt says. "We've been able to put together a live show that people will love, and we're happy about that."
The Piano Guys performed as a part of the 2019-2020 season.