10/30/2020
Discovering The Smith Center / Retrospective Series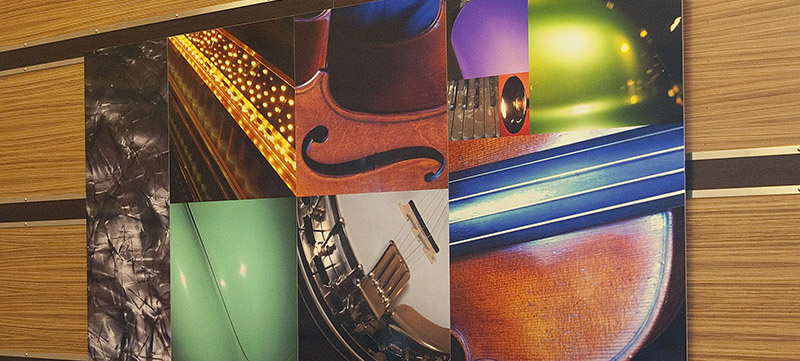 While The Smith Center may have been conceived to showcase world-class performing arts, it is also a showcase of world-class visual art, including outdoor and indoor sculptures, paintings and lithographs by some of the nation's most celebrated artists.
Roger Thomas, retired Smith Center board member and former chair of the center's original art committee that was instrumental in building the world-renowned art collection, says that The Smith Center has always been committed to showcasing art of every medium.
"We never intended to be a visual arts center, but it was very important to us in the planning stages that we create not only an enjoyable atmosphere for patrons, but also highlight artistic creativity in every way possible," explains Thomas, an art historian and one-time executive vice president-design for Wynn Design & Development.
Thomas helped to select and place all of the center's specially commissioned art pieces, maintaining that a center with the importance and integrity of The Smith Center needed to be graced with artwork of the same caliber.
A Visual Treat
Today as many as fifty different works of art, including gifted pieces, commissioned pieces, exhibits on loan and contributions from private collectors, are featured throughout The Smith Center's five-acre campus.
"We tried to create a visually rich environment to match the world-class music, dance and theater presented on our stages," says Thomas, adding that visitors can enjoy these vibrant artworks before taking in a performance, or while enjoying an afternoon or evening in Symphony Park.
However, not every piece of art is visually and physically accessible to the public.
"Some works are only seen on the free, guided walking tours, where visitors and residents alike can learn about the art, architecture, and history of The Smith Center," says Thomas.
Exterior Collection Highlights
Notable outdoor art at The Smith Center includes impressive bronze statues of Fred W. and Mary B. Smith and Donald W. Reynolds at the west entrance of Reynolds Hall just outside the box office.
Fred W. Smith served as chairman of The Donald W. Reynolds Foundation that provided record-setting donations totaling $150 million to the creation of The Smith Center.
Commissioned as tributes to The Smith Center's namesakes, the statues were created by nationally renowned sculptor William Behrends, whose notable commissions include a bronze-bas relief placed in the lobby of the National Portrait Gallery in Washington, D.C.
According to Thomas, Behrends' portrait sculptures are widely praised for their likeness, quality of detail and sensitive evocation of character. "His two statues that we are fortunate to have at The Smith Center are no different," he says.
Internationally recognized artist Tim Bavington, who is also a Las Vegas resident, created the iconic Pipe Dream for The Smith Center, which is located at the east end of the Donald W. Reynolds two-acre Symphony Park.
This towering, multi-colored sculpture offers a vibrant visual that welcomes all to The Smith Center campus.
"Music is the genesis of Bavington's paintings," explains Thomas. "Created with synthetic polymer paint, each vertical band of color in the sculpture represents a music note from Copland's composition."
"Fanfare for the Common Man," a 20th-century classical music work by American composer Aaron Copland, was selected by The Smith Center as the musical muse to inspire Bavington's sculpture.
"We carefully selected this composition as we felt that it resonates with the center's mission to serve as an inclusive hub for community members from all walks of life," Thomas says.
Another commissioned art piece also by Bavington hangs on the second floor of Reynolds Hall and mirrors his outdoor sculpture.
Interior Collection Highlights
The Genius in Flight sculpture by artist Benjamin Victor is prominently located at the center of the Grand Lobby in Reynolds Hall.  
Presiding eternally over the staircase, this art deco sculpture serves as a striking first impression for Smith Center newcomers.
"Genius in Flight stays true to The Smith Center's  overall design inspiration, the Hoover Dam, by drawing from the dam's well-loved Winged Figures of the Republic sculptures, albeit with a different energy to it," says Thomas.
The widely acclaimed Victor joined the ranks of Michelangelo, Bernini and Daniel Chester French when he received his first large commission at only 23 years old.
At age 26, he became the youngest artist ever to have a sculpture in the nation's foremost collection of figurative sculpture, the National Statuary Hall in the United States Capital.
Artist David Ryan, another Las Vegas resident, created two wall pieces, Fritz and Lang, which are displayed in the upper level of Reynolds Hall.
Nearly eight feet in height and seven feet in width, the Ryan pieces get their inspiration from an assortment of musical instruments, with each piece having the ability to reflect light.
Other well-known artists who have created specialty indoor pieces for The Smith Center include Ed Mell and Shawn Hummel.
Other Works of Art
Nearly thirty additional pieces of contemporary art are on extended loan to The Smith Center from the Las Vegas Art Museum (LVAM) Permanent Collection, courtesy of the LVAM partnership with the University of Nevada, as well as from private collectors.
On display in both public and administrative spaces of Reynolds Hall and Boman Pavilion, the LVAM collection features many important works of art by international, national, regional and local artists.
Thomas says LVAM wanted to share this art with the public in a very appropriate community cultural venue.
"We are truly honored to feature such valuable works of art," he says.
Serving the Mission
Thomas says that the visual arts, just like the performing arts, represent life itself.
"Art of all kinds shows us ways to perceive the world, and how to appreciate it," he says, offering that putting a premium on the visual arts is another way to support artistic excellence, education and inspiration.
"The Smith Center is, after all, the Heart of the Arts and its mission is to serve as a vital force in our community," Thomas concludes.
The Road to Reopening
Due to public health and safety guidelines during the pandemic, The Smith Center has cancelled or postponed over 450 performances totaling more than $40 million in lost revenue.
As a nonprofit, The Smith Center needs community support now more than ever.
To help open The Smith Center's doors again, click here to support our Road to Reopening Fund.