4/3/2020
Inside the Theater / Discovering The Smith Center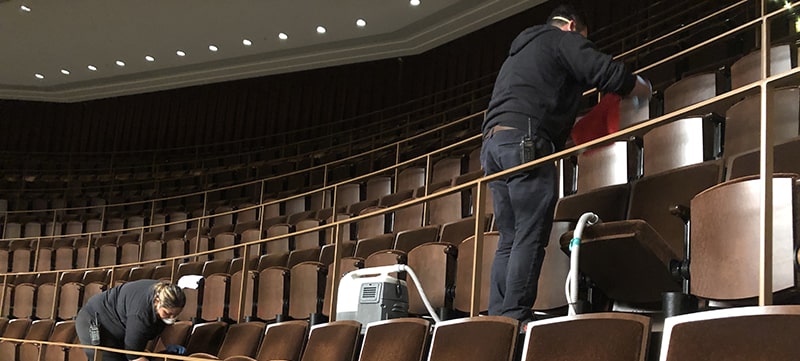 The Smith Center's stages might be dark for now, but its team remains hard at work preparing for when the doors reopen.
To ensure the highest standard of cleanliness and safety when guests return, the center just launched campus-wide disinfecting, alongside general infrastructure improvements.
"As we remain closed to support the health of Southern Nevadans, we're taking this time to do all that we can to provide the safest possible environment for our patrons," says COO Glenn Medas. "While we're at it, we are also tackling maintenance projects that will give our patrons the highest quality of experience when they enjoy shows in our theaters again."
Cleaning Top to Bottom
The disinfecting of The Smith Center spans every room.
Overseen by a small team, this includes disinfecting door handles, wall phones, light switches, tables, handrails and mirrors throughout the Reynolds Hall and Boman Pavilion buildings.
The center also shampooed the seats and standalone chairs throughout the 2,050-seat Reynolds Hall theater, and cleaned the facility's carpets.
On top of disinfecting, the center has provided thorough detailing work across its campus, including artist dressing rooms, the 250-seat Cabaret Jazz venue, the box office and the Mezzanine Lounge where guests can eat prior to performances.
"We're pleased that through all of this, our in-house team is handling the majority of these efforts, both to conserve funds and to keep our team members working during this challenging time," Medas says. "Of course, our team members practice social distancing as they work."
An Extra Polish
These efforts also include refreshing important infrastructure.
Team members remain busy with sanding and repainting the Reynolds Hall stage.
They will also refinish the floor in Troesh Studio Theater, the center's black-box theater that hosts a wide variety of small-scale productions and community events.
"We have the time to be thorough with all of these projects right now, and that's exactly what we're doing," Medas says.
The Smith Center takes pride with every detail, he adds.
"During The Smith Center's opening night performance in 2012, Jennifer Hudson sang 'Take Care of This House,'" Medas remembers. "We're taking care of our house now, as we wait for our Southern Nevada family to return."