11/13/2019
Education and Outreach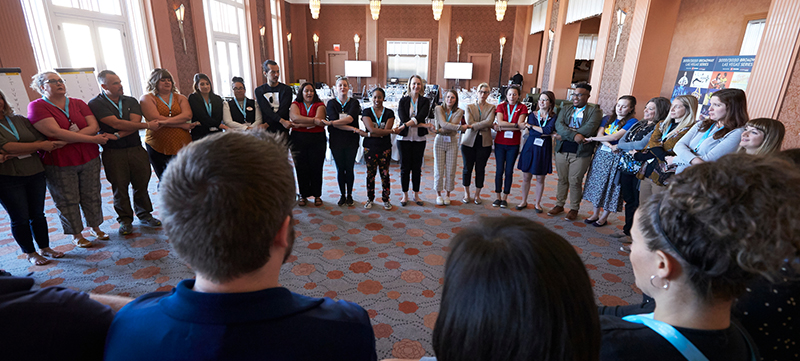 What does The Smith Center have in common with performing arts centers in Oklahoma, Ohio and London, England?
They are all among the 26 performing arts centers and regional theaters worldwide chosen to partner with Disney Theatrical Group to provide the Disney Musicals in Schools (DMIS) initiative, helping under-resourced elementary schools develop their own sustainable musical theater programs.
To date, the DMIS program has impacted over 43,000 students across the globe — including over 2,000 in Southern Nevada.
As a nonprofit, The Smith Center has a highly successful history with this program.
That's why The Smith Center hosted a global summit this fall for representatives of DMIS programs from across the U.S. and the United Kingdom, made possible with generous support from The Walt Disney Company.
With more than 70 attendees from 20 DMIS organizations, the event allowed program administrators and teaching artists to share best practices and learn how to strengthen their efforts overall.
"It was an honor to be offered the opportunity to host the second DMIS Summit at The Smith Center," says Melanie Jupp, Smith Center associate director of Education and Outreach, who has spearheaded its DMIS program. "The international network of DMIS sites includes incredible organizations."
An Honor for The Smith Center
It's no coincidence Disney Theatrical Group tapped The Smith Center to host this summit.
Chosen seven years ago as Disney Theatrical Group's second regional partner to implement DMIS, The Smith Center has helped 35 Clark County School District (CCSD) schools launch thriving theater programs — providing performance opportunities to thousands of students.
Due to its success with bringing this program to remote schools within CCSD, The Smith Center even piloted Disney Theatrical Group's new expansion of DMIS into rural communities beyond Las Vegas.
With these accomplishments, The Smith Center's team remains enthusiastic to offer guidance and support for arts organizations across the U.S. as they implement their own DMIS initiatives.
"The Smith Center has been a leader for other performing arts centers in incorporating Disney Musicals in Schools," says Sheffia Dooley, administrator for the DMIS site at Playhouse Square in Cleveland, Ohio. "I have looked to The Smith Center for reporting, recruitment and alumni engagement best practices."
Promoting Diversity and Accessibility
The two-day summit placed strong emphasis on promoting diversity and inclusion, with an additional focus on seamless participation for students with disabilities in DMIS programs.
This included sessions with award-winning choreographer Paige Hernandez and Diane Nutting, a nationally recognized expert in the intersection of disability, arts and education.
Thomas Latham, a teaching artist with the DMIS site at Eastside Educational Trust in London, England, describes the sessions as highly valuable. He has already created a visual agenda, he says, to better engage students with various learning styles.
"I will be implementing many of my learnings into my Disney Musicals in Schools residencies, as well as my other teaching work," he says.
Nick Bartell, administrator for the DMIS site at the Lyric Theater in Oklahoma City, Oklahoma, felt inspired to create accessible classrooms for students with disabilities as part of initial preparations.
"If we make it a point to create accessible environments from the start, we can meet these students' expectations immediately, making them a part of the classroom," he says.
A Global Impact
Across the United States and abroad, representatives of DMIS programs all share moving stories of the initiative's impact in their communities.
With participating students able to perform and also work behind the scenes, Jupp points to how students gain skills in building relationships, collaboration, personal responsibility, literacy and more.
"In Southern Nevada and across DMIS sites, it is clear students are learning and growing through participation in this program," Jupp says.
Latham describes a student at the London DMIS site who initially refused to participate, then built tremendous self-confidence as the show's assistant stage manager.
"He completely shone in the role and took ownership of the job," Latham says.
A nonverbal student at the Oklahoma City DMIS site eventually became comfortable with speaking after stepping into a role in a school production, Bartell adds.
"Through the process of DMIS, that student tapped into their voice on stage, and was able to take that back into their core studies and everyday life," Bartell says.
The 35 schools that have worked with The Smith Center share many similar stories of students blossoming with new confidence, friendships and skillsets.
"There is an understanding across all DMIS sites that theater and the arts are a crucial part of a student's development," Jupp says.
Learn More
The Smith Center provides the Disney Musicals in Schools program every year for under-resourced elementary schools in Southern Nevada. To learn more, click here.