4/6/2018
Education and Outreach / Performances and Artists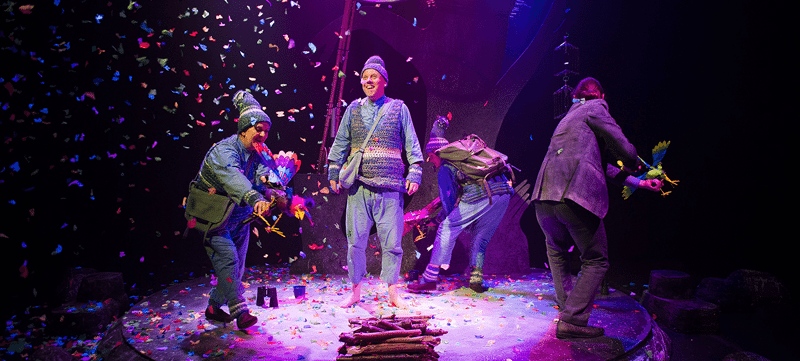 Sensory Friendly Performances Accommodate Audiences with Sensitivities
As a young man on the autism spectrum, Michael Martin takes special considerations when seeing a live show.
This can include bringing earplugs or sunglasses, if a performance involves strobe lights and abrasive sounds.
That's because these can impact his sensory deficits, affecting how his brain receives and responds to information through his senses.
But this hasn't prevented Michael from developing a lifelong passion for the arts.
"Michael enjoys the performing arts, and even performing personally," says Desirae Wingerter, program services and support manager with Grant a Gift Autism Foundation.
The Smith Center advocates for making live productions accessible to all, including individuals on the autism spectrum or with other sensitivities, like Michael.
That's why for the first time ever, The Smith Center will present sensory friendly productions this year, with shows offering special accommodations for audiences on the autism spectrum and with other sensory deficits.
This will kick off with the 60-minute, family show "Shh! We Have a Plan," running at 10 a.m. and 2 p.m. on Saturday, April 21 in Troesh Studio Theater at The Smith Center.
All tickets will be available at an accessible price of $10, thanks to the support of a grant from Windsong Trust.
What Is A Sensory Friendly Show
Sensory friendly shows are presentations of live theater productions that provide special features to accommodate audiences on the autism spectrum or with other sensitivities.
For The Smith Center's sensory friendly presentation of "Shh! We Have a Plan," these special accommodations will include adjustments to dampen jarring sounds and startling lighting.
Quiet spaces will also be provided in the lobby for audience members who might need to take a break from the performance. Representatives of autism organizations from across the community will be on hand to provide assistance and support.
Guests will even receive a pre-visit guide prior to the performance to help them prepare for every step of the show, from parking to identifying their seats to knowing their tickets will be scanned with an electronic device.
"Everyone deserves to experience the joy and magic of live theater," says Candy Schneider, vice president of Education and Outreach at The Smith Center. "The Smith Center considers it a high priority to open up the performing arts for everyone, in an environment that is safe and welcoming."
Shh! This Is a Great Show
Community members of all ages are encouraged to attend the upcoming sensory friendly performances of "Shh! We Have a Plan."
Based on the beloved children's book by Chris Haughton, this nonverbal production is designed for young audiences and features magic, music and puppetry.
The show will be performed by Cahoots, NI, a renowned children's theater company from Belfast, Northern Ireland that has often performed the show for families seeking sensory friendly experiences.
"It's a wonderful show, and audience members with sensory deficits can enjoy this with their entire families," Schneider says.
From Shh to a Lion's Roar
There is another benefit to seeing "Shh! We Have a Plan."
Those who attend will receive advance access to purchase tickets for The Smith Center's planned sensory friendly performance of Broadway musical "The Lion King" this November.
"I can't think of a more thrilling show that people of all ages will truly enjoy," Schneider says.
The Smith Center prioritizes making all of its sensory friendly shows welcoming and comfortable for audiences with sensory deficits.
Melanie Jupp, Education and Outreach program manager at The Smith Center, has coordinated directly with autism organizations across Southern Nevada to help with preparing these performances.
"We are taking into account every detail to provide the best guest experience for all," Jupp says.
"Shh! We Have a Plan" was part of the 2017-2018 season.