9/12/2016
Community Impact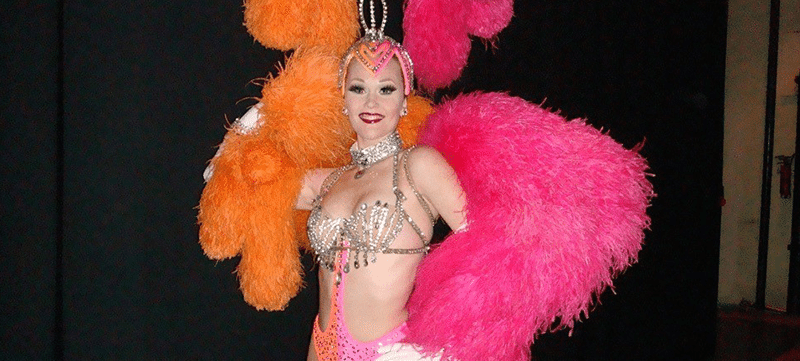 Jen Flood still remembers when the idea of becoming a showgirl crossed her mind in high school.
"I remember seeing the show 'Jubilee!' On 'Entertainment Tonight' and I remember thinking, 'What's that? That seems cools,'" says Flood, marketing manager with The Smith Center. "I always had that at the back of my mind."
Little did Flood know, this thought would shape her career.
As The Smith Center's Broadway Series continues with "Beautiful The Carole King Musical," highlighting King's inspiring path to acclaimed singer/songwriter, the show underscores the value of recognizing successful female entertainers.
This happens to include Flood, whose work behind the scenes at The Smith Center is not her first taste of the performing arts.
Perhaps not so surprising with her 5-foot-11 stature, Flood danced professionally for many years in some of the world's most top-billed cabarets and revues, including the long-time staples of Vegas entertainment, "Folies Bergeres" and "Jubilee!"
"It's a very special thing to be part of something that truly is a part of entertainment history," she says.
While she has hung up her headdress for now, Flood has many stories to share from her glittering past.
Auditioning
Flood recalls the auditioning process vividly – both the excitement, and the nerves.
Take her audition for "Jubilee!" as an example. Just 20 years old at the time and still studying dance at the University of Las Vegas, Nevada (UNLV), Flood had to learn a series of dance combinations on the spot, testing her technique against the many other would-be showgirls.
"You danced (the combination) in groups of 10 and they cut people," she says. "Then you learned another round of choreography and they did another cut."
Finally came the lineup.
With height a top casting concern, the auditioning dancers were lined up on stage from tallest to shortest. The current cast then filed out in full makeup and frame-fitting outfits for comparison.
"It was really intimidating," Flood remembers. "You're standing and thinking, 'Are they going to pick me?' Then they have all of these beautiful showgirls come out and you wonder, 'Do I even fit in this line?'"
But of course she did.
Showgirl Lifestyle
Flood remained a "Jubilee!" performer throughout her studies at UNLV. She balanced college classes with dancing two shows at night, six days a week, in addition to working various modeling and cocktailing jobs.
Her budding showgirl years also included dancing with the "Folies Bergeres" at the Tropicana Las Vegas.
Even with her full workload, the magic of participating in Vegas' showgirl legacy wasn't lost on her.
"The vast majority of the people in the show did it because they really loved the glamour and they loved what it was to be a showgirl," she recalls. "There was definitely a sense of pride that we were all in this show."
Her favorite memories include sweeping onstage in the top-dollar costumes festooned with jewels and feathers.
"I would kill for some of those costumes," she jokes.
An American Dancer in Paris
Flood's dancing connections landed her an audition for Lido, a Parisian cabaret on par with Moulin Rouge. This led to joining an international cast giving nightly performances at the glamorous theater on the Champs-Élysées, in the heart of Paris.
"It's really the ultimate French experience. You have dinner and champagne with the show, a band plays beforehand, there are velvet curtains and crystal chandeliers," she says. "It was a very cool experience."
Outside of dancing in shows at 8 p.m. and midnight, she also had plenty of time to explore Paris.
"We had our days free to go and gallivant around the city," she says.
Shipping Off
Flood's dance career pulled anchor when she moved on to dance for Norwegian Cruise Line, where she performed in a show three nights a week.
While she shared a room that was roughly an arm's span wide, she still enjoyed the ship's amenities and roamed on shore when the ship docked.
"It's a really interesting lifestyle. I was working with people from all corners of the world," she says. "It was a very unique way to be able to use something that I love doing, dancing, and be able to see the world."
Perks of the Job
Flood's ongoing dance roles provided opportunities for TV appearances, including news interviews about the showgirl tradition.
She was featured as one of the "Jubilee!" showgirls during a special episode of "America's Next Top Model," and even had the chance to sit beside Tyra Banks.
She also landed a part as a showgirl in a Vegas-themed national commercial for Capital One.
"I got to be the showgirl marrying a viking," she recalls with a laugh. "You get really interesting opportunities like that, and it's like, 'What is this crazy entertainment world we live in?'"
That said, all of her experiences have come in handy for her current role promoting the performing arts at The Smith Center, she adds.
She wouldn't have it any other way.
"Being in entertainment, Vegas is the place to be," she says.