7/10/2017
Supporting the Arts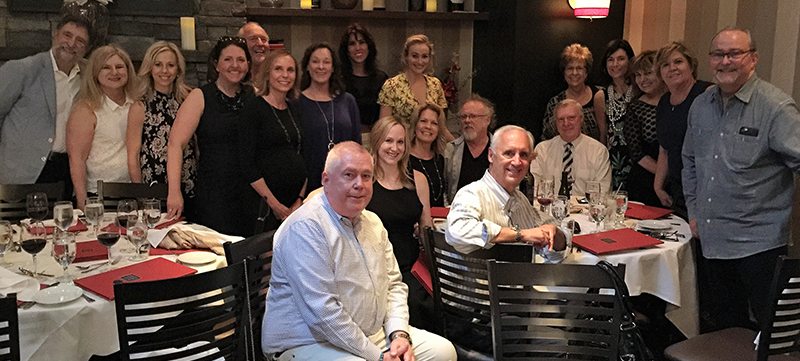 Many people can say they've jetted to the Big Apple to see Broadway shows.
But how many also enjoy special meet-and-greets with the shows' casts and creative team members, on top of attending a national theater competition highlighting Las Vegas performers?
A group of Smith Center donors, Board members and their guests enjoyed these privileges and more in June – all during an exclusive trip to New York City personally arranged by Myron Martin, Smith Center president and CEO.
"The Smith Center's ties to Broadway run very deep. We thought, 'Why not apply those to give our supporters a once-in-a-lifetime experience?'" Martin says. "It was thrilling to offer them a taste of Broadway and behind-the-scenes access available to few. We hope to explore more unforgettable experiences to provide for our supporters."
A Whirlwind Experience
An idea from the President's Advisory Council this multi-day excursion included seeing three of Broadway's newest hit musicals: "Waitress," "Bandstand" and "Come From Away."
This could be considered a sneak peek, as these shows could one day come to The Smith Center on national tours (hint, hint).
Krista Darnold, a donor and President's Advisory Council member, says the performances exceeded all of her expectations.
"Each of the three Broadway shows Myron had arranged for us to see brought so much life, joy, sorrow and tears," Darnold says. "When returning to Las Vegas, many asked which one was my favorite. Hard to say, with such amazing talent, and each with its own unique story."
Exclusive Access
Seeing the musicals was just the start.
After enjoying "Waitress," the group met with the show's new star Betsy Wolfe, and spoke with her about her incredible performance career.
Following "Bandstand," the group joined cast members on stage and even met the show's book writer and lyricist Robert Taylor, who hails from Las Vegas.
Donors Nancy and Sheldon Laube say they couldn't have experienced such special access on their own.
"Besides all the great musicals we saw, the added bonus of joining cast members on the stage of 'Bandstand' after the performance, was over the top," they say. "This only happened because of The Smith Center."
Las Vegas Performers
Topping off the trip, the group attended the National High School Musical Theatre Awards — also known as the Jimmy Awards — at the Minskoff Theatre on Broadway.
The competition featured performances by top musical theater students from across the U.S., including Clark County School District students Adelynn Tourondel and Nathan Sink, representing Nevada after winning the Nevada High School Musical Theater Awards at The Smith Center.
The group even attended the event's after party to meet Tourondel and Sink in person.
"What a treat to see dreams and passion come to life on stage," Darnold says of watching the competition. "What excitement, joy and anticipation felt throughout the audience watching the amazingly talented students perform."
The Smith Center Connection
This trip – for which each participant paid for all aspects of their experiences – showcased The Smith Center's prominent role in the national theater community, says Alisa D. Nave-Worth, a donor and President's Advisory Council member.
"What struck me most about our recent trip to New York and Broadway was how incredibly connected The Smith Center and Las Vegas are to the exciting new plays nationally," Nave-Worth says.
Some group members were surprised to learn that, prior to starring in "Waitress," Wolfe has performed at The Smith Center, including emceeing its 5th Anniversary Concert.
In addition, the music of "Bandstand" was initially introduced during the Composers' Showcase at Cabaret Jazz.
"It was incredible to understand what a vital role our performing arts center plays in the national arts scene," Nave-Worth says.
Learn More
To learn more about the benefits of supporting The Smith Center, visit www.thesmithcenter.com/support-us/membership/.