7/1/2019
Discovering The Smith Center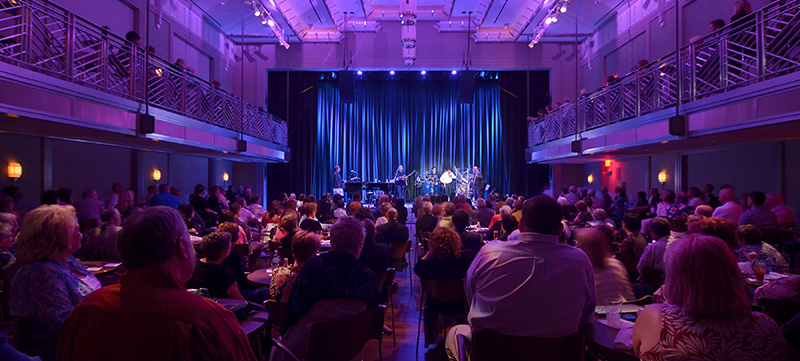 Head Audio Engineer at Myron's Cabaret Jazz Hails from Career with Music Icons
After serving as a top audio engineer on tour with Prince, Kevin Harvey has high standards ingrained in his blood.
"If you were even a little far from what he wanted, you were going home the next day," recalls Harvey, now head audio engineer for Myron's Cabaret Jazz at The Smith Center. "You lived in a pressure zone."
This was far from his only brush with high stakes.
With decades of experience as a leading audio engineer, Harvey also oversaw the audio equipment and set-up on tour with music legends such as Black Sabbath, Diana Ross and Chicago.
For such iconic performers, perfection remained the expected standard – especially with their concerts' sound quality.
"You learn how to be one step ahead, because your job depends on it," Harvey remembers.
While he has left his touring days behind, that standard for perfection remains strong with him.
Harvey now takes his unrivaled experience from working with world-renowned performers, and applies this to providing impeccable audio at every concert at Myron's Cabaret Jazz, a 240-seat space ideal for experiencing live performances up close.
"I bring that major concert touring sensibility to this smaller venue," Harvey says.
A Different Kind of Challenge
Myron's Cabaret Jazz offers plenty of tests for Harvey's expertise.
Showcasing performers that span Broadway, jazz, pop, world rhythms and more, every concert offers a vastly different sound.
"We do everything in this room. I don't think there's a genre we haven't done yet," Harvey says. "We'll do a rock show with Frankie Moreno or David Perrico one night, then a quiet, delicate jazz show with John Pizzarelli or Jim Brickman the next."
With so many different performances, this means a wide range of instruments, vocals and technical equipment for Harvey and his team to balance with each show.
Harvey has yet to hear an artist's vision that he couldn't fulfill, however.
Whether a performer aspires to include orchestras, choirs or surround sound, "we are literally able to do anything in here that will fit on this stage," Harvey assures.
Harvey and his team love being tested, he adds.
"There's not much performers have thrown at us in seven years that we haven't been able to pull off," he says.
A World-Class Crew
It's typical for performers at Myron's Cabaret Jazz to end their shows with special shoutouts to the room's tech crew.
That's not surprising to Harvey. He hails the venue's team — including Steven Mack, assistant head of lighting, and Kevin Ruschmann, assistant head audio engineer — as among the very best he has ever worked with.
This serves as a top reason Harvey looks forward to continuing in his role for years to come.
"Myron's Cabaret Jazz might be a small room, but we pride ourselves on the quality of it," Harvey says. "We don't want anyone to go home without having a great experience."
Want to experience the sound for yourself?