4/9/2019
Performances and Artists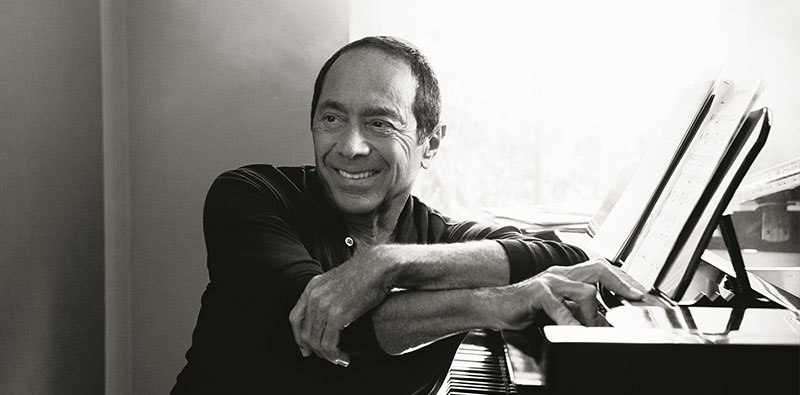 While singer-songwriter legend Paul Anka has left a long trail of hits over his 60-year career, he admits that early on, he was terrified to pen a tune for Frank Sinatra.
"He'd always tease me, 'hey kid, when are you going to write me a song?'" Anka remembers. "But I couldn't. I was scared to death. I was writing all this teen stuff."
Of course, there are few music lovers today who aren't familiar with the poignant ballad Anka eventually crafted for Sinatra, "My Way." Some dub it the most powerful of Anka's many earworms, which also include classics like "Puppy Love," "Put Your Head on My Shoulder" and even Johnny Carson's theme song for "The Tonight Show."
With the success these two musical titans shared, it stands to reason that Anka's new national tour "Anka Sings Sinatra" — coming to The Smith Center on November 22 — pays tribute to top Sinatra tunes, while still showcasing Anka's bevy of hits.
"The 'Anka Sings Sinatra' tour will honor a great artist who has influenced me more than anyone else throughout my career," Anka says of Sinatra. "It will be a night filled with his songs, my songs, my way."
Anka still remembers the emotional story behind writing his timeless classic for Sinatra.
And he loves to tell it.
"That was a big time for me," he says.
Sinatra Reveals the End
Anka didn't think twice 50 years ago when Sinatra called him out of the blue and declared, "kid, we're going to dinner."
"When (Sinatra) says 'we're going to dinner,' you drop everything and you go to dinner," recalls Anka, who as a budding Vegas headliner in the 1960s had a friendly tie with the Rat Pack.
During the meal, Sinatra dropped a stunning surprise: He was about to quit showbiz.
"He said, 'I've had it. I'm fed up. But I'm doing one more album,'" Anka remembers. "He said, 'you never wrote me that song.'"
Anka felt the pressure.
Still reeling over the news at 1 a.m. in his apartment, he found himself toying with lyrics to a melody he had heard in France.
"I thought, 'What would Frank do with this melody, if he were a writer?'" Anka says. "And all of a sudden, it just came to me: 'And now the end is near. I face the final curtain.'"
A Keeper
Anka finished the song at 5 a.m. and called Sinatra on the spot, promising him a song for his final album.
"I knew I had something I wouldn't be afraid to give him," Anka says.
The next day, Anka recorded a demo of the song and flew to Las Vegas, where Sinatra lived.
"I played him the song and he looked at me and said, 'I'm doing it,'" Anka says.
Two months later, Sinatra called Anka again. This time, with better news.
"He says, 'kid, listen to this,' and puts the phone up to the speaker," Anka remembers. "I heard 'My Way' playing for the first time, and I started to cry."
A Vegas Loyalist
It's fitting that Anka's new tour brings him to Las Vegas at The Smith Center.
Anka built his name as the youngest headliner in Vegas in the 1960s, and went on to run his own Vegas nightclub, Jubilation, in the '70s.
He remembers these years fondly as when "the headliners were really the stars of the place, and the hotels came second."
Now living in Southern California, Vegas remains his ideal for headlining — perhaps even for a residency someday.
"That's really where I'd like to wrap it up," he says.
Paul Anka performed 'Anka Sings Sinatra: His Songs, My Songs, My Way!' as a part of the 2019-2020 season.