2/18/2020
Performances and Artists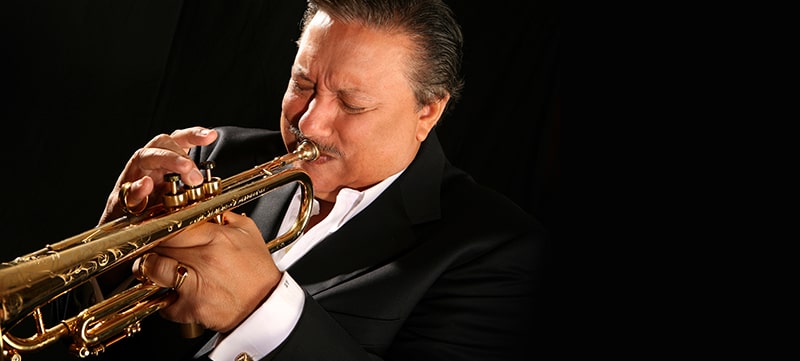 Grammy-Winning Trumpeter Arturo Sandoval to Perform Jazz, Latin, Classical Songs and More
Multi-Grammy winner Arturo Sandoval has experienced broader musical influences than most other trumpet players.
To start, the Cuban native grew up immersed in his country's rich, musical culture.
"My first job as a musician was in my own village, playing traditional Cuban music," Sandoval recalls. "Of course I fell in love with traditional Cuban music, and I've been playing that all my life."
Then while still a young man, he happened to encounter jazz legend Dizzy Gillespie when the latter visited Cuba on a jazz cruise in 1977 — on the first cruise ship taken from America to Cuba in 16 years.
The cruise ship's visit gave American and Cuban musicians a rare chance to meet informally at a Havana hotel for an epic jam session. There, Gillespie — a pioneer of Afro-Cuban and Latin jazz — recognized Sandoval's raw talent and became his personal mentor in all things jazz.
"The greatest lesson I got from Dizzy Gillespie was his love for music and his enthusiasm," Sandoval remembers. "He was really contagious, that passion that he got from music."
On top of all this, Sandoval is also classically trained to perform the most virtuosic and complex trumpet concertos.
No wonder that, after mastering these disparate styles, he fuses and performs them all during his concerts.
"For me, music is only one (style). A good one," says Sandoval, whose stylings have earned three Grammys, an Emmy and six Billboard awards. "I love all kinds of music, and I've been trying to learn as much as I can about anything that sounds good to me."
Backed by a gifted band, Sandoval makes his anticipated return to Myron's Cabaret Jazz for three concerts on January 22 and 23, 2021. Southern Nevada audiences will enjoy a rich blend of songs spanning Latin, jazz, classical and more.
"They're going to see a band with big soul and a huge desire to entertain people," Sandoval promises.
Honored by the President
Sandoval's illustrious career includes working with music megastars such as Frank Sinatra, Rod Stewart, Paul Anka and more.
"I've been so blessed, because I have had so many opportunities to share the stage and play on albums with a lot of my heroes," he says. "Each of them has been a big privilege."
One highlight does top his list: receiving the Presidential Medal of Freedom from then-President Barack Obama.
While presenting this prestigious honor, Obama lauded how Sandoval hurtled numerous obstacles to bring music to the world. This includes breaking the law in Communist Cuba to listen to jazz in secret, and overcoming poverty to inspire a new generation of artists.
Honoring Sandoval's significant cultural contributions to the nation and the world, the award has been given to three other jazz artists, including Ella Fitzgerald, Duke Ellington and Count Basie.
"To be in such company is beyond words for me," he says. "It's one of the biggest honors that I've gotten in my life, and I really take that very deep in my heart."
SEE THE SHOW
Arturo Sandoval performs on January 22 and January 23, 2021. For tickets, click here.