12/19/2019
Performances and Artists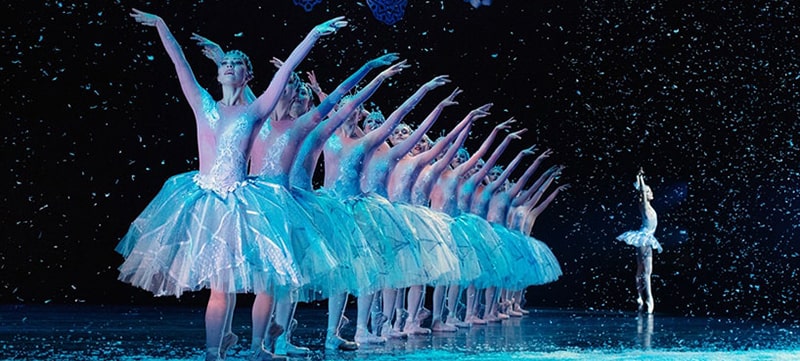 In keeping with past holiday seasons, Southern Nevadans continue to enjoy their annual dose of fairy tale magic with Nevada Ballet Theatre's mesmerizing performances of "The Nutcracker." Over 100 years old, this beloved ballet remains a festive staple performed worldwide.
This production had a long journey to becoming a classic. Enjoy a few surprising facts below about its history.
The First Performance Was a Failure
Even with Pyotr Ilyich Tchaikovsky's whimsical score and choreography by Marius Pepita — this genius pair also collaborated on the iconic ballet "Sleeping Beauty" — the original production that premiered in 1892 in St. Petersburg, Russia was lambasted by critics and audiences alike. The production wouldn't gain its passionate global following until it found new life many decades later in America.
Tchaikovsky died less than a year after the production's premiere, never to know the mark his music would leave on generations.
It Wasn't Originally a Christmas Show
"The Nutcracker" didn't become a holiday tradition until famous choreographer George Balanchine gave it his personal touch. Once he reimagined the production by changing characters and adding breathtaking visuals, his 1954 production for the New York Ballet solidified this ballet as a seasonal favorite.
The Ballet's Source Material is Rather Dark
German Romantic author E.T.A. Hoffman penned the original tale "Nutcracker and the Mouse King," though his version somewhat differs from what audiences enjoy today. His story chronicles a prince cursed to ugliness by the Mouse Queen, and a little girl embroiled in violent battles between armies of toy soldiers and mice.
French writer Alexandre Dumas, also author of "The Three Musketeers," eventually wrote a lighter and less frightening adaptation of Hoffman's story, and this version became the inspiration for the ballet.
The Ballet Has Been Given Different Endings
With "The Nutcracker" presented throughout the world, its ending depends on the interpretation of the company performing it. The original production in 1892 ended with bees dancing around a hive, which doesn't quite fit with many contemporary iterations.
Some companies end the ballet with central character Clara waking up under the family's Christmas tree with the nutcracker doll in her arms, leaving audiences to decide if her adventures really happened or if she simply dreamed them. Other endings involve Clara heading toward or leaving on a sleigh, though whether she will return home or move on to other adventures remains a delightful mystery.
For more information about the 2020 production of Nevada Ballet Theatre's The Nutcracker, please click here.