11/5/2019
Performances and Artists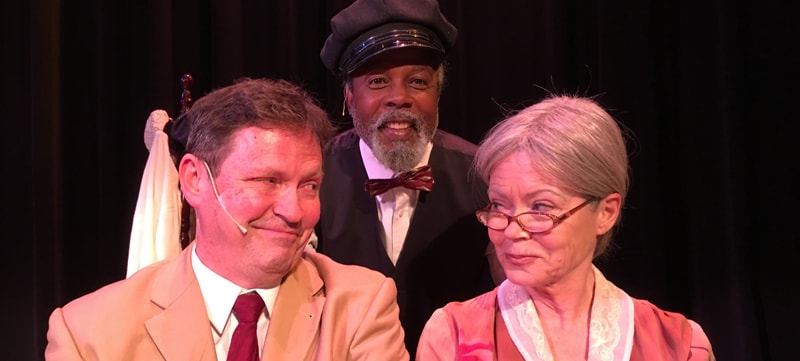 Top Names from TV and Film to Star in Pulitzer-Prize-Winning Play
Alfred Uhry's moving, Pulitzer-Prize-winning play "Driving Miss Daisy" remains an important commentary on race relations in America, hailed for its heartwarming use of comedy and friendship to reveal the common humanity between an elderly Jewish widow and her African-American chauffeur.
This production visits The Smith Center on January 31 with a star-studded cast from film and television, costarring Sheree J. Wilson and — to give Southern Nevadans special pride — Clarence Gilyard, professor of film at the University of Nevada, Las Vegas.
These prominent actors have already built a strong working collaboration across their stunning entertainment careers.
Together, they costarred in renowned television series "Dallas," and both costarred with Chuck Norris for all eight seasons of "Walker, Texas Ranger."
Gilyard also acted in iconic films such as "Die Hard" and "Top Gun," and he costarred with Andy Griffith in the classic television crime drama "Matlock."
Beyond its impressive cast, the play itself has earned showers of accolades since its 1987 Off-Broadway debut, with the film adaptation garnering four Oscars, including Best Picture and Best Adapted Screenplay by Uhry.
Behind all of this prestige, however, remains a simple story that sprang from true events.
Real-Life Inspiration
Uhry's characters stem from real people close to his heart.
He based the two central characters of "Driving Miss Daisy" on his own grandmother, Lena Fox, and her chauffeur Will Coleman. After Fox experienced a driving accident and could no longer drive herself, Coleman chauffeured her from 1948 to 1973.
In this time, Coleman became a part of the family, even occasionally looking after Uhry as a child and driving him to school. Fox's relationship with Coleman evolved to her teaching him how to read, and he remained with the family even after her death.
Three Powerful Shows
Few likely know that Uhry penned "Driving Miss Daisy" as part of a three-show trilogy.
Each was based in Atlanta, Georgia, Uhry's hometown, and each tackled weighty topics such as race, religion and intolerance.
The trilogy's additional shows include "Last Night at the Ballyhoo" — which earned Uhry a Tony for Best Play — and "Parade," which also won him a Tony for Best Book of a Musical.
Like "Driving Miss Daisy," these two shows also spawned from real life. "Ballyhoo" follows a Southern Jewish family much like Uhry's, and the 1998 musical "Parade" is based on Leo Frank, a young Jewish man who worked for Uhry's uncle and was falsely accused of murder.
A Lasting Impact
Uhry received the Pulitzer Prize for drama in 1988 for "Driving Miss Daisy," and he remains the only American playwright to earn a Pulitzer, an Oscar and two Tony Awards.
The play has remained a cultural mainstay ever since, including a celebrated Broadway revival in 2010 starring Angela Lansbury and James Earl Jones.
The production's current tour with Gilyard and Wilson started performing regionally and then, receiving ongoing critical acclaim, expanded to a national tour.
This reflects how even with the passing years, this show's endearing storyline and hopeful message continue to hook audiences nationwide.
"Driving Miss Daisy" was a part of the 2019-2020 season.