3/6/2017
Broadway Las Vegas / Performances and Artists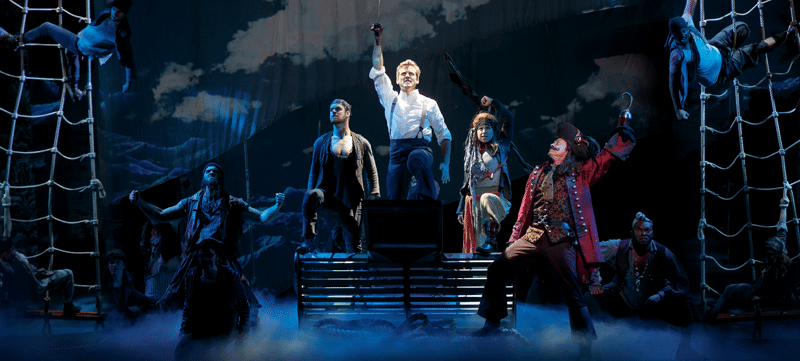 People young and old recognize the tale of Peter Pan, but do they know the story of how this beloved character came to be? Hit musical "Finding Neverland," coming to The Smith Center in February 2017, explores the surprising backstory of the famous Lost Boy.
Even beyond this imaginative musical, however, there is much to discover about how Peter Pan originated, and the many ways his story has taken shape throughout the past century.
Just Child's Play
The creator of Peter Pan, playwright Sir James M. Barrie, never had his own children (one of the reasons his marriage to actress Mary Ansell ended in divorce). He spent a great deal of time, however, playing with the children of his good friends Sylvia and Arthur Llewelyn Davies. It was while writing and acting out skits for the children that Barrie developed the characters and plot he would use in writing the play, "Peter Pan."
Barrie also drew his inspiration from the boys' parents. He modeled Mr. Darling after their father and young lawyer Arthur. Mrs. Darling was based on their refined, nurturing mother Sylvia.
Reflecting Barrie's close relationship with the family, he adopted all five boys after Sylvia and Arthur's early deaths.
Flying to the Stage
After Barrie first mentioned Peter Pan in a book in 1902, he perfected the character two years later in the full-length play, "Peter Pan, or The Boy Who Wouldn't Grow Up."
Despite the quality and originality of the piece, Barrie had difficulty getting it produced. Plays in 1904 usually did not have special effects like flying, or major scene changes.
Finally, English producer Charles Frohman agreed to produce the play. He cast one of England's most popular actresses, Nina Boucicault, as Peter, with her brother Dion directing the first production. A perfectionist, he often had cast and crew rehearse up to 18 hours at a time.
Even with its major technical requirements and unique plot and characters, the production was a great success throughout England, and then in the United States in 1905.
The Many Forms of Peter Pan
Peter Pan has lived on in many forms.
In 1911, Barrie turned his popular play into a novel. Peter Pan's story has since been retold in numerous films, including the famous 1953 Walt Disney classic, then "Peter Pan" in 1924, Steven Spielberg's "Hook" in 1992, "Peter Pan" in 2003, and "Pan" in 2015. The play was also performed live on national TV in 2014.
Why does Peter Pan remain popular around the world? Perhaps because it speaks to the smallest child with its spectacle and fantasy, while reminding adults of the magic from when they were children.
One more reason prevails: the universal desire to never grow up.
"Finding Neverland" was a part of the 2016-2017 Broadway Las Vegas series.
Photo Credit: Kevin Kern as JM Barrie and Tom Hewitt as Captain Hook and Cast. Photo by Carol Rosegg