10/13/2017
Supporting the Arts / Community Impact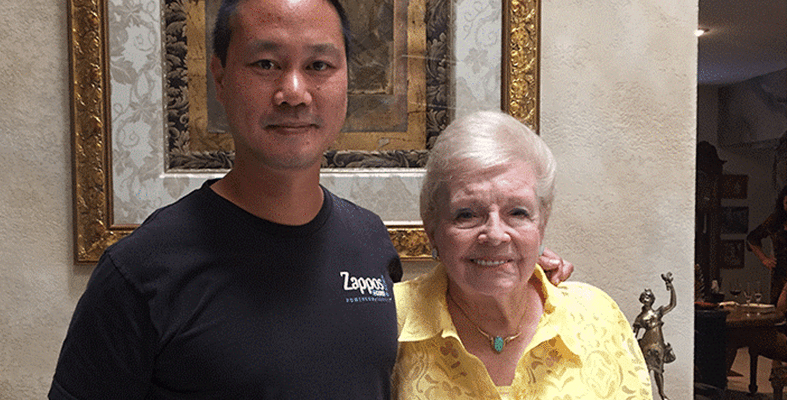 Not many birthday parties involve exclusive use of a Smith Center theater, attendance by 100 community leaders like Tony Hsieh, and a personal serenade by Las Vegas headliner Frankie Moreno.
But the 90th birthday for Smith Center Founder Janice Allen was no ordinary fete.
Filmed by PBS, this late September celebration in Troesh Studio Theater didn't just honor Janice's impact as one of The Smith Center's Founders, whose support made the center's opening possible.
It also recognized Janice's legacy as a community juggernaut, with a lifetime of contributions and volunteerism that have helped shape Southern Nevada as we know it.
"It was one of the happiest days of my 90 years," Janice says of the celebration. "It was very heartwarming."
There is much to look back on from Janice's inspiring past.
From piloting her own plane into Las Vegas, to working as one of the first reporters at the Review-Journal, she has no shortage of stories from our city's early days.
Raised in Wartime
Raised in Sebring, Ohio, Janice embraced the arts early on, including crooning as a teenager with the Victory Singers during World War II, which performed at veterans' hospitals and on radio shows. She served as a drum majorette for six years, on top of being homecoming queen.
She experienced personal stories of the war writing full-time for the town newspaper at just 17.
"A lot of the boys were getting killed, and the mothers would come to me with the pictures of her sons," she recalls. "My mother and I would sit and cry with them."
She broke ground attending West Virginia Wesleyan College, where she not only wrote for the college's newspaper, but also served as class secretary, the college's only female officer.
"Girls weren't supposed to go to college in those days, but all my friends went to college," she recalls.
A Las Vegas Pioneer
When Janice married her first husband Ernest Haupt after his return from World War II, he helped Janice spread her wings – literally.
A flight instructor and officer with the Army Air Corps during the war, Ernest bought a two-seater plane and trained Janice to become a pilot.
After glimpsing an article about Las Vegas in Life magazine — featuring a stagecoach rolling down Fremont Street — Janice asked Ernest if they could honeymoon there.
"He said, 'Las Vegas? Where is that?' I said, 'I'm not sure, but I think California,'" Janice remembers. "Other than Life, there was no publicity about it in those days."
Flying their plane to Vegas, Janice landed on the dirt runway of Alamo Airways in Las Vegas, where McCarran Airport now sits.
"We taxied and parked the plane and left the keys in it," she says. "In those days, you could do that."
Their honeymoon included taking in the sites of Vegas, which were far fewer at the time.
"There were only three hotels – the Flamingo, the El Rancho Vegas and the Last Frontier," she recalls.
The couple also met Charles Squires, a city cofounder and former owner of the city's newspaper, then-named as the Las Vegas Evening Review-Journal.
Upon hearing that Janice had worked as a reporter, he offered her a job.
They didn't need to consider long. After a return trip in which the couple crashed their plane, leaving Ernest unable to walk for six months, they suffered a grueling winter in Ohio.
They decided Las Vegas was the remedy they needed.
"We arrived in Las Vegas from Ohio, and I started working at the Evening Review-Journal the next day," Janice says.
Shaping the City
After becoming a permanent Las Vegas resident, Janice wasn't about to sit back and sunbathe.
She joined civic organizations like Junior Chamber of Commerce Wives and the Service League (later the Junior League), which she continued with for 55 years, serving as president twice.
She spearheaded numerous community projects, including initiating testing for local children's eyesight and hearing, creating a puppetry program for students with special needs, and building an immense children's playground downtown with a space ship and roller skating trail.
She instilled this sense of service in her now late sons Gary and Craig, who joined her on most of her efforts.
Under her leadership, the Service League even paid for the first water well on what is now the University of Nevada, Las Vegas campus, and donated thousands of books and volunteer hours.
"Education has always been important to me," Janice says. "I believe in helping Las Vegans in need whenever I can."
Up Close with Celebrities
Her career also evolved, including personally working with numerous celebrities as associate producer for the local "Superstar Show," and as producer of the United Cerebral Telethon.
Just a few stars she got to know included the Jackson Five, Debbie Reynolds, then-senator John F. Kennedy, and Frank Sinatra, who asked her for a date.
"These were the most creative years of my life," Janice remembers.
Still Going Strong
As active as ever, Janice continues to support numerous community organizations, including Nevada Public Television System, PBS, Three Square Food Bank and the Junior League's Endowment Fund.
Her greatest achievements include helping fund The Smith Center as a Founder, she says.
"The first time I heard about this amazing project, I got chills. I thought, 'This is exactly what we need in Las Vegas,'" she recalls. "Now every time I step into the building it brings tears to my eyes, and I think, 'I'm a part of this.'"
Janice has continued to serve on The Smith Center's President's Advisory Council, and provides ongoing support for the nonprofit's Education and Outreach efforts, including student matinees.
"I have loved the arts since I was a child, and now it has come full circle for me to be able to see children experience the same," she says.
She plans to remain a close supporter of The Smith Center.
"My involvement with The Smith Center is probably the biggest project I have ever done," she says. "It's something that will live on beyond our years."
Learn More
To explore options for supporting The Smith Center at many levels, visit: www.thesmithcenter.com/support-us/membership/