2/1/2018
Performances and Artists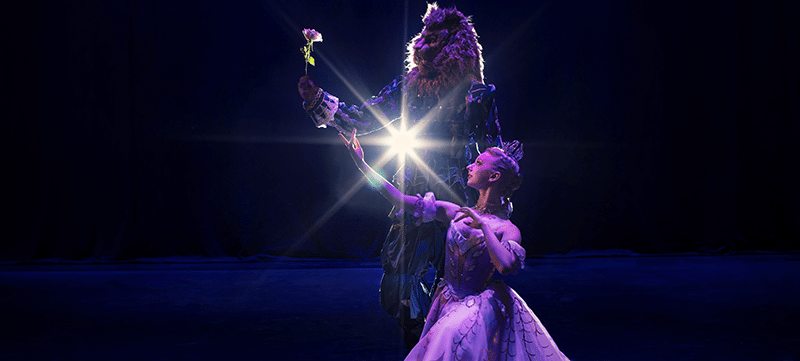 Photo Credit: Virginia Trudeau.
Ballet Répétiteur Recreates Original Staging of "Beauty and the Beast"
Leslie Young can tell you about every step of ballet "Beauty and the Beast" that Nevada Ballet Theatre (NBT) will perform on February 17 and 18.
Literally, every step.
That's because it is Young's job as a répétiteur to instruct dance companies across the U.S. on how to perform various ballets in precisely the same style and choreography of their original productions, preserving each ballet's unique artistry for new generations.
"I consider myself a custodian of the ballets. I'm not here to create them in a new way, I'm here to recreate them among a new generation of dancers," Young explains. "It's bringing a piece of history alive today."
This includes Young staging the romantic and whimsical "Beauty and the Beast" with NBT.
That means when you see NBT's performance, it will mirror the one originally conceived and developed by Artistic Director Lew Christensen with the San Francisco Ballet in 1958.
A former dancer with the San Francisco Ballet herself, who even danced in "Beauty and the Beast" as a student with the company, Young considers this ballet a true gem.
"It has a lot of the qualities of 'The Nutcracker' in that it's charming and magical," she says. "The kids love the magic and the animals, and the adults love the beautiful storyline."
A Beast of a Ballet to Perform
Recreating the original staging of "Beauty and the Beast" is no simple feat.
Christensen developed the original production with highly challenging choreography, Young says.
This includes soaring lifts, complex postures and an athletic pas de deux (a dance duet between the lead characters).
"The dancing is hard," Young says. "Lew Christensen was building a company and he was challenging his dancers, because you're only as good as the ballets you dance."
Fortunately, she has a wealth of resources to draw upon, including videos of original rehearsals and performances, detailed notes from Christensen's longtime collaborator, and access to performers from the original cast.
"I love to talk to these dancers and ask them about their memories," she says. "When I'm in the studio, I'm not only teaching dancers the steps, I'm sharing these stories. It makes it alive for the dancers today."
There's one obstacle NBT performers have to figure out on their own: acting through animal costumes – especially the Beast, who wears a mask and fur trim.
"We rehearse in the mask as soon as we can, because it's hard to partner a girl when you're wearing fur," she says.
A Production Well Worth Preserving
NBT's dancers have been up for every challenge, Young says, which shows in their spot-on technique.
Their artistry complements the ballet's stunning set design and costuming, she adds, not to mention the score featuring classic pieces by Pyotr Ilyich Tchaikovsky.
"You can see and hear the emotion that's going on in all the characters," she says. "That's what I love about the way Lew Christensen combined the music and choreography."
Combining all of this makes the hard work worthwhile, Young says, for a production that continues to mesmerize audiences.
"It's all done in a way that's theatrical, and people still love the theater," she says.