12/9/2019
Broadway Las Vegas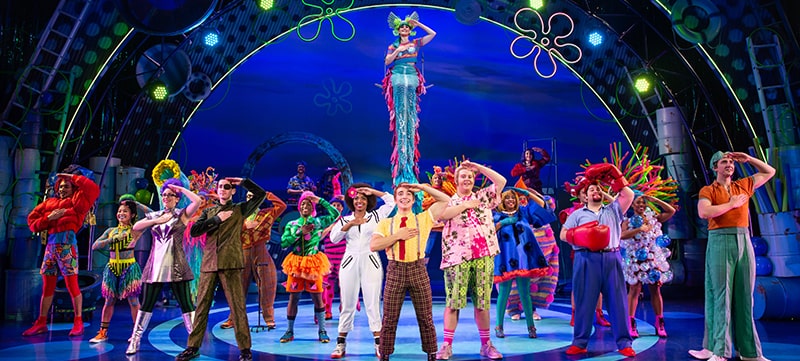 Broadway Musical Offers Groundbreaking Music and Theater Effects for All Ages
So, you've never seen a single episode of children's television phenomenon "SpongeBob SquarePants."
Or maybe you grew up with it. Maybe reading the name just makes you confused.
No matter which of these applies, you can still fully enjoy the hit Broadway show "The SpongeBob Musical," coming to The Smith Center February 4 to 9.
"What's going to surprise audiences is our general approach to the material," says Director Tina Landau. "This show is something entirely different. It operates on different levels for different age groups."
Skeptical? Just read on.
A Rock Concert, Experimental Theater and Performance Art
Just for background, Nickelodeon's show "SpongeBob SquarePants" is the brainchild of a marine biologist who created the character for an educational comic book, which eventually spawned one of television's most popular cartoons.
The show stars a yellow sponge who lives in a pineapple with his pet snail, Gary. They have adventures with their friends Sandy Cheeks and Patrick Star.
The Broadway show takes these elements and adapts them into a wildly entertaining and uplifting production, with a layered and groundbreaking approach to target all ages.
"It's a party and a rock concert, it's experimental theater and performance art," Landau says. "It's something utterly unique."
Avant-Garde Costumes, Tony-Winning Sets and a Foley Artist on Stage
While children will delight in recognizing their favorite characters, the musical's creative team took care to infuse the show with elements specifically targeting adults.
This includes eye-popping and whimsically interactive set pieces, which won a Tony for their zany creativity.
The show also offers groundbreaking concepts such as placing a Foley artist — a sound-effects technician — on stage, allowing audiences to watch theater magic unfold before their eyes.
Critics hail the show's wit-packed script that addresses relevant themes such as intolerance — with no prior knowledge of the TV show required to follow along.
The musical even features an abstract depiction of the characters, portraying them in vibrant, avant-garde costumes that earned a Tony nomination (without a goofy animal suit in sight).
"The way we approach the characters is fresh and surprising," Landau says.
Original Music by Pop Megastars
The production's music remains the strongest draw for adults.
This musical boasts a rare collection of original tunes written by a slew of today's top music stars, including John Legend, Aerosmith, Sara Bareilles, Panic at the Disco and more.
These jaunty melodies uphold the show's overall vision of an electrifying, joyful theater experience.
That's why Landau and the cast assure that audiences report loving the show, spanning SpongeBob superfans and those who have never seen an episode.
"Our task is to go out into the world and spread joy," Landau says. "That's what the cast is doing, that's what the company is doing, that's what the show is doing."
The SpongeBob Musical was a part of the 2019-2020 Broadway Las Vegas Season.
Photo Credit: The Company of The SpongeBob Musical. Photo by Jeremy Daniel