2/1/2021
Education and Outreach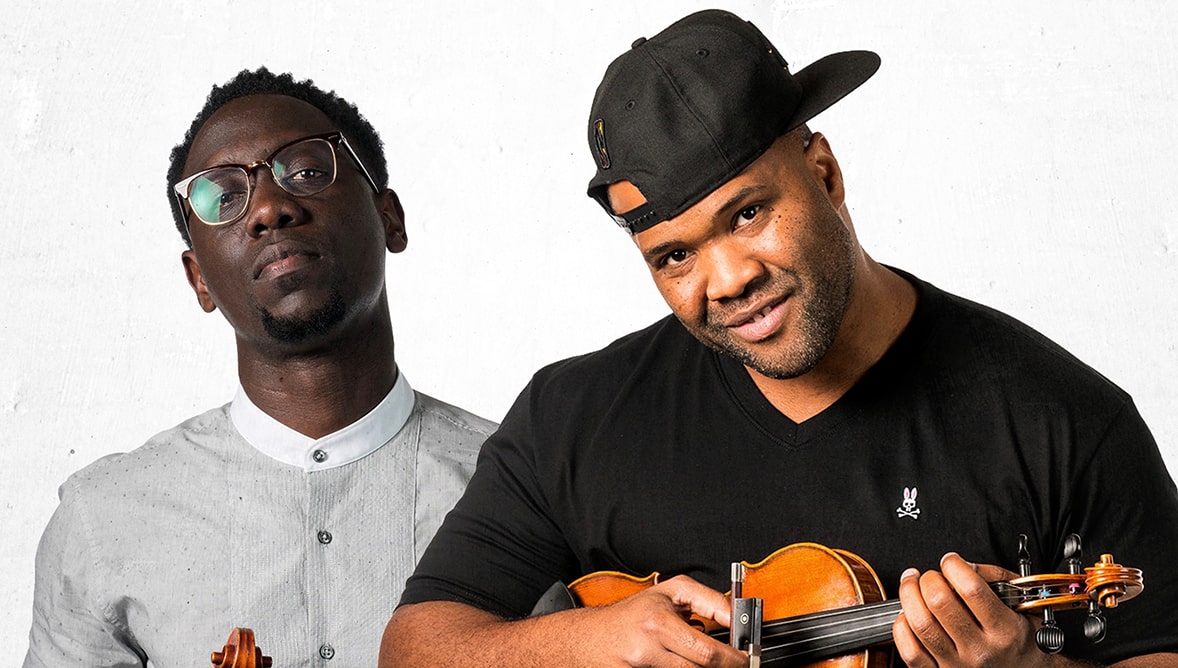 As Magnet Assistant Principal for Robert O. Gibson Leadership Academy, Silvia Mendoza-Stout says she tries to make it a priority to provide her students with learning opportunities that reflect their own experience as well as the experiences of others.
"When students are exposed to experiences in which they see themselves, their family, and their culture being valued in the world, they feel a sense of belonging," says Mendoza-Stout.
That's why Mendoza-Stout was among the 490 teachers who had their students participate in Black Violin, The Smith Center's third virtual student matinee of the 2020-2021 school year.
Black Violin's classical-meets-hip hop duo uses their unique blend of music to overcome stereotypes while encouraging people of all ages, races, and economic backgrounds to join together to break down cultural barriers.
With Black and Hispanic students making up nearly three-quarters of her school's student population, Mendoza-Stout says the online performance had particular meaning for her students who watched it.
"Seeing themselves reflected in the performance was really powerful for them," says Mendoza-Stout.
Teaching Students to Take Charge of Their Own Journey
The chart-topping Black Violin, which has collaborated creatively with artists such as Kanye West, Aerosmith, Tom Petty, Wyclef Jean and Alicia Keys, entered the student virtual space during the pandemic as a way to continue its mission of promoting music education.
Through an engaging, multi-camera video, Black Violin features songs that cover themes of perseverance, exploration and unity. Embedded in the performance is a message for students and educators about challenging stereotypes and status quo conventions, and that pathways to success require commitment, practice and unwavering dedication.
"Our students really resonated with the key message, which is that you are responsible for your own pathway to success," says Mendoza-Stout.
Dr. Raymond Brown, orchestra teacher for Centennial High School, echoes the positive experience.
"The virtual field trip with Black Violin was amazing not only in its beautiful professional performances, but in its ability to spark student conversations about goals and making your future your own," says Brown.
Centennial student Bryce' Thompson says her favorite part of the performance was hearing the band talk during the performance's pre-recorded question and answer session.
"I don't know what I want to do in life yet, but learning how the Black Violin musicians embraced their personal history and journeyed successfully to the stage inspired me," says Thompson. "I really admire their courage in creating something new and sticking with it."                                                           
Another Centennial student, Avery Olson, says she loved the way that Black Violin was able to bring new life to classical music as an artform.
"I love classical music, but it was so much fun to hear the violin being played in a way I've never heard before," says Olson.
Helping to Build Community Through the Universal Language of Music
According to Mendoza-Stout, the opportunity to experience Black Violin virtually schoolwide via the school's online common rooms was a tremendous way to bring her school's students and teachers together.
"It's been a tough year for building community," says Mendoza-Stout. "The Black Violin performance offered a way to encourage dialogue while also providing a much-needed break from distance learning."
In a post-performance survey, as many as 90.9 percent of Gibson's teachers said that they look forward to more virtual programming from The Smith Center as a way to continue broadening their students' horizons.
"Most of our students have never been to The Smith Center," says Mendoza-Stout. "When students get to see these virtual student matinees, it opens up a whole new world for them."
For more information about The Smith Center's education and outreach programs, click here.