1/30/2020
Performances and Artists / Broadway Las Vegas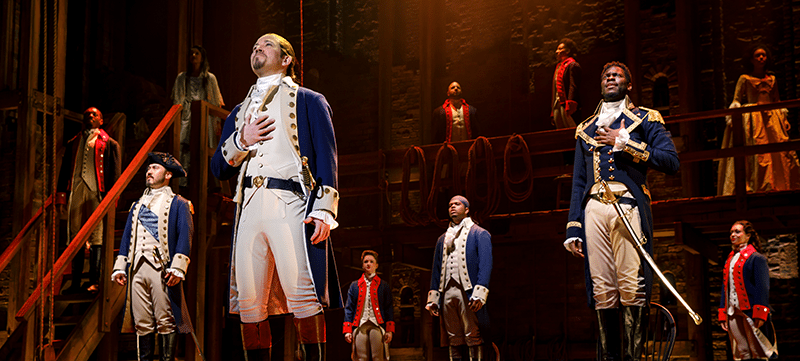 Incredible Facts About the Life of Alexander Hamilton
Broadway musical phenomenon "Hamilton" has swept the nation with its Grammy-winning score by Lin-Manuel Miranda and its groundbreaking diverse cast, reflecting the nation's legacy as a melting pot.
Southern Nevadans will experience this smash hit for themselves when the show returns to The Smith Center.
Many are eager to enjoy this hotly anticipated show on our stage — but how well do they know the real story of Alexander Hamilton, a founding father and America's first Secretary of Treasury, whose incredible life inspired this renowned production?
Read below a few facts about this historical figure that might surprise you:
1. He gained passage to the colonies with the power of his pen
Born on the island of Nevis in the British West Indies, teenage Hamilton applied serious writing chops in a letter he wrote about a hurricane that struck Saint Croix. Not only was the letter published in The Royal Danish American Gazette, but local readers were so impressed by his talent that they took up a collection to send him to King's College (later known as Columbia University) in the British North American colonies.
2. He was Washington's right-hand man in the Revolutionary War
As a volunteer in the Revolutionary War, Hamilton served as a captain of artillery and eventually became the aide de camp (confidential assistant) to General George Washington. Hamilton even personally commanded an artillery battle at the Battle of Yorktown.
3. He was a self-taught lawyer
Think it's impossible to get a law degree in six months? Hamilton did. After resigning from his military commission, Hamilton studied the law and passed a legal examination within just half a year. It probably helped that he had studied with John Jay and William Paterson, two future Supreme Court justices.
4. He inspired the first U.S. political party
Hamilton's efforts as the United States' first Secretary of Treasury and his fierce advocacy for a powerful federal government led to the formation of the Federalist Party in 1791. This further led to his political opponents Thomas Jefferson and James Madison creating their own political group, the Democratic-Republican Party, which supported an opposite platform.
5. Not only did Alexander Hamilton die in a duel – his son did, too
It's common knowledge that Alexander Hamilton was killed in a dual with his longtime rival, Vice President Aaron Burr — but many don't know that Hamilton's eldest son Philip Hamilton met a similar fate at 19, when he received a mortal wound in a duel. Not only did this occur just three years before the senior Hamilton's death, but both duals took place in Weehawken, New Jersey. Alexander Hamilton even used the same set of pistols as his son.
Photo Credit: Company - HAMILTON National Tour - (c) Joan Marcus 2018