8/13/2020
Education and Outreach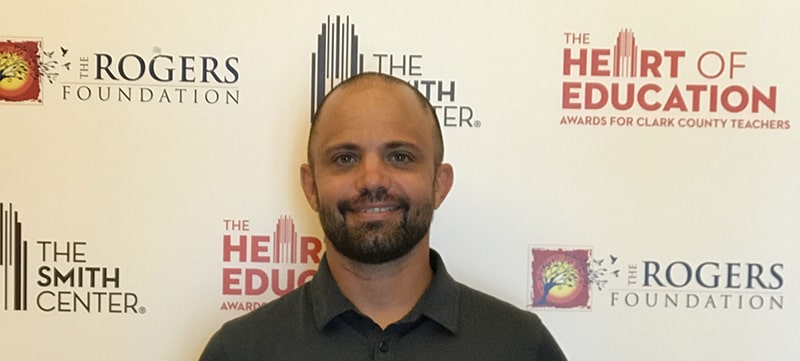 For as long as William Love can remember, he has looked up to his father as his personal hero.
That's why he followed in his father's footsteps by becoming a Clark County School District (CCSD) teacher – and even taught and coached alongside his father for years at Foothill High School.
"Nothing felt better than getting the opportunity to work alongside my dad," says Love, now a teacher for 11 years.
Little did Love know, he would make a significant impact on his own.
Now teaching at Liberty High School, he learned that freshman who fail classes prove more likely to drop out.
To address this, Love created a Success 101 program to mentor at-risk freshman — with a resulting drop in failure rates.
"There's no better feeling than having a kid who was always ashamed of their grades proudly show you their report card," Love says.
For these reasons and more, The Smith Center honored Love as one of the top 20 teachers of its fifth-annual Heart of Education Awards, celebrating outstanding CCSD educators.
Love received a $5,000 cash award, thanks to generous support from The Rogers Foundation. His school will also receive a $1,000 donation.
"It feels good to be recognized and know what I do makes a difference," Love says. "I want all of my students to feel like they matter, and are important, so it feels good to have that reciprocated."
Empowering Students to Succeed
Love's groundbreaking program gives struggling students the support they need.
Any students failing a core class such as math, science or English are paired with a mentor teacher to guide them in staying organized and succeeding academically.
Love also personally conducts biweekly meetings with the teachers to discuss progress and areas of concern. He further advises students on meeting requirements to graduate.
"I focus more on motivating students, to show them that when they focus on accomplishing their personal goals, anything is possible," he says.
As a coach for a variety of school sports, he takes his efforts a step further.
He guides many students through every step of earning college scholarships. He even helped one student move to Kansas for college.
"I teach because one of my top values is helping people," Love says. "Most of the time, it is helping kids do their best."
The Challenge of Remote Learning
Like all other CCSD teachers, Love faces a whole new challenge with remote learning in the coming school year.
After regularly checking in with student athletes during the pandemic, he plans to incorporate mindfulness and stress management practices into his virtual classes, to help students adjust.
"Remote learning will present new challenges, but I think it's a great opportunity for teachers to evolve and improve their craft," Love says.
His Heart of Education Award renews his enthusiasm to take this on, he adds.
"Winning this award has provided me with confidence and motivation to continue doing what I am passionate about," Love says. "Despite the chaos the pandemic has caused, I will persevere and remain positive."
His Heart of Education Award renews his enthusiasm to take this on, he adds.