10/22/2018
Education and Outreach / Supporting the Arts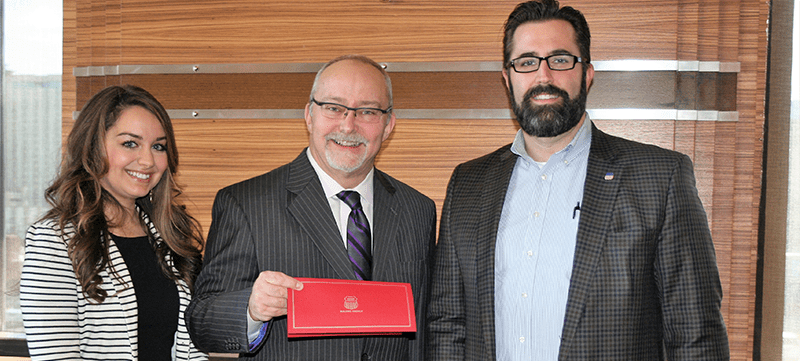 The Smith Center received welcome support this October for its mission to make live theater accessible for all.
The Union Pacific Foundation generously awarded a $25,000 grant to The Smith Center, a nonprofit organization, to support its ongoing presentations of sensory-friendly performances – including the center's very first sensory-friendly presentation of Broadway show "The Lion King" on November 17.
These performances provide a supportive, judgment-free theater environment designed for individuals with sensory sensitivities and other intellectual or developmental disabilities.
"This grant is going toward something special," said Myron Martin, Smith Center president and CEO, during a check-passing presentation at The Smith Center. "To make this available for these special families is something that touches our hearts. Thank you for allowing us to do this."
The $25,000 grant is dedicated to ticket subsidies for low-income individuals of all ages with sensory sensitivities and other intellectual or developmental disabilities to attend a variety of sensory-friendly performances at The Smith Center. 
The funds will also help The Smith Center present more sensory-friendly shows in the future, said Melanie Jupp, senior program manager with Education and Outreach at The Smith Center.
"This will help us continue our sensory-friendly initiatives into this coming spring, and hopefully the next year, as well," Jupp said. "It's something that we are very passionate about, that the arts truly are for everyone, and we're very grateful for the community's support and for Union Pacific's support to make sure that this happens."
Nathan Anderson, senior director of public affairs with Union Pacific Railroad, said the organization's foundation focuses on supporting causes that align with the railroad's mission of serving as a key resource for the economic and community wellbeing of cities and towns nationwide.
"We've started to focus on three distinct areas with our foundation grants, and those are safety, workforce development and community spaces," Anderson said.
The third category includes supporting programs and projects that create, sustain or expand upon artistic and cultural experiences, tying directly to The Smith Center's mission.
Himself the father of two sons on the autism spectrum, Anderson lauded The Smith Center's presentation of sensory-friendly shows, as he understands how individuals on the spectrum can be particularly sensitive to intense lights and noise.
Sensory-friendly performances at The Smith Center accommodate these needs by reducing jarring lighting and sound, as well as providing areas in the lobby for audience members to take a break from the show.
"I understand what it's like to have to leave a performance or to just say, 'We know we're not going,'" Anderson said. "We appreciate the opportunity to find venues and events willing to adapt and accommodate."