5/4/2020
Education and Outreach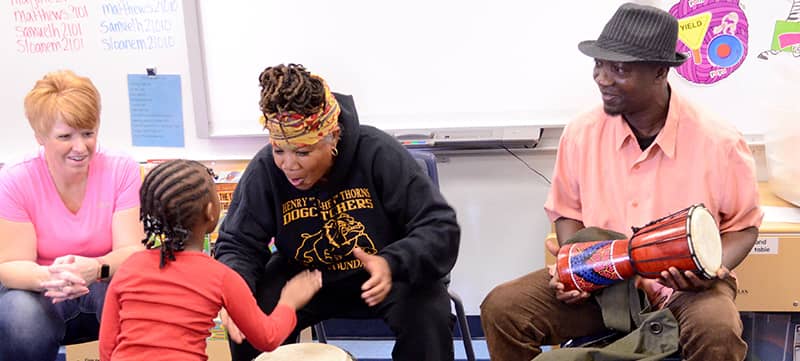 When Nevada schools closed due to the pandemic, early childhood educator Elizabeth Steffen felt strongly about engaging and stimulating her students from afar.
"Students' learning environments have been changed, and many home environments, also," says Steffen, a teacher with Lois Craig Elementary School in Las Vegas.
She found her solution with both technology and the arts.
Steffen recently launched a twice-weekly series of virtual classroom sessions through Google Hangouts, during which she provides live lessons via computer to her students and their families.
Steffen knew just how to help kids transition to this digital experience: involving the joyful singing, drumming and movement lessons of Smith Center teaching artist Marcia Robinson.
"Many of my students felt scared and unsure about this new kind of learning," Steffen explains. "I felt music would warm them up to this new learning environment."
Her instincts proved right.
Steffen's students had gotten to know Robinson well prior to the pandemic. The teaching artist conducted a multi-week residency in Steffen's classroom, to demonstrate teaching with artforms like song and rhythm.
This occurred through an arts education program The Smith Center offers as a nonprofit, the Southern Nevada Wolf Trap Early Learning Through the Arts.
During initial virtual classes, Robinson's contagious enthusiasm hooked the students as she led them through the singing, dancing and rhythm exercises she had taught them at school.
"Marcia brought her positive spirit and voice. It was also successful because she built the foundation, and worked with me to continue it on with my students," Steffen says. "Just seeing her friendly face again gave me the courage to turn to my little faces, and assure them we are all in it together."
With Robinson's ongoing involvement in the online sessions — with the aid of her West African drumming partner Harold Akyeampong — students eagerly join in the musical exercises.
"What students get from this experience is that music connects us, no matter how far away we are from each other," Steffen says. "I feel students look forward to seeing us, and participating by using our familiar songs and dance."
Bringing Arts to the Classroom
Steffen observed this same success when Robinson used the arts in her real classroom.
"My top takeaway from the classroom residency with Marcia would be how crucial music and art is to the classroom," Steffen says. "It gives students the opportunity to be creative, open to self-expression and motivates students to be leaders."
Robinson — who hails from an acclaimed dance career and serves as cultural arts supervisor for the West Las Vegas Arts Center — focused her work with Steffen's students on developing their voices.
This included communication through singing, storytelling, movement and drumming.
"Finding our own unique self-expression and using it to communicate as young leaders was the objective," Robinson says. "Everyone is a leader."
Steffen witnessed a jump in classroom engagement, and a new feel of community among students.
"The main impact on my students has been increased motivation to join in and participate," she says. "Students who were shy and not very talkative were able to participate with movement, sound and instruments."
Ongoing Impact at Home
As students remain homebound, Robinson considers it a high priority to continue this impact through the virtual classroom sessions.
"There are so many artful activities to include in the home, but a lot of parents are not familiar with the art connection," Robinson says.
That might change, thanks to Steffen's online classes.
"Giving parents and students a chance to use music to connect, have fun, learn and build security in this new long-distance learning is the key to making it successful," Steffen says.
Learn More
To learn more about The Smith Center's education and outreach initiatives, click here.