4/16/2020
Education and Outreach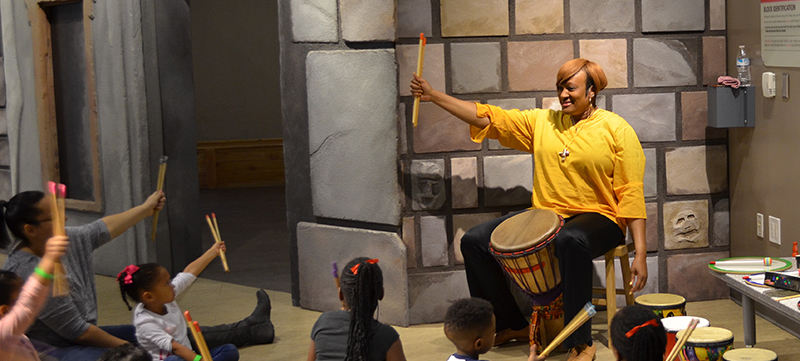 As a leading professional percussionist, Linda Austin — known to all by her stage name, L.A. — can list many impressive performance experiences.
This even includes playing for world icons such as Nelson Mandela.
But one of L.A.'s favorite memories took place in a Clark County School District (CCSD) classroom.
As a Smith Center teaching artist — an artist who applies artforms to engage community members in learning experiences — she participated in a multi-week residency with a preschool class. This occurred through The Smith Center's Southern Nevada Wolf Trap Early Learning Through the Arts program.
One nonverbal student took an instant liking to L.A. and her drumming exercises.
"She never spoke, but when I would come to class, she literally would sit so close to my legs," she remembers. "I assumed she enjoyed the vibration of the drum, she felt while I played."
The girl connected with the drumming beyond what anyone had expected.
During one visit when the class had free time, L.A. led the class in drumming "Take Me Out to the Ball Game."
To everyone's surprise, "the nonverbal student started singing along," L.A. says. "This was a breakthrough. The teacher was blown away, and so was I."
This stands as one of numerous positive outcomes from L.A.'s ongoing work with applying drumming to support children and adults with developmental disabilities.
One of over 20 teaching artists for The Smith Center, a nonprofit organization, L.A. uses drumming therapies in settings such as schools and nonprofits to promote communication and cognitive abilities among individuals on the autism spectrum and with developmental delays.
"Drumming is an engaging experience for these children," she says. "They are touched immediately in heart, mind, soul and spirit."
Working with World Icons
Since L.A. grew up in Queens, New York listening mesmerized to the neighbor boys play their congas, she knew drumming would drive her life.
"Through my drum, I discovered who I am," she says. "The drum is the essence of who I am. Drumming is my life."
Following her dream, she performed across the globe. This includes accompanying renowned author Maya Angelou, and performing for Nelson Mandela at a United Nations World Summit with an all-female percussion ensemble she founded.
"There were drummers from all over the world. We were the only females there," she remembers, adding that they were asked to represent the music of Mandela's home country. "After we performed, he congratulated us and said, 'your drumming made me miss home.' What an honor."
She even performed for Oprah Winfrey's 50th birthday celebration.
"I was on cloud nine, and continuously told myself 'you can do this,'" she says. "I truly believe nothing is a coincidence and opportunities come into your life to fulfill a mission that you are ready for."
Drumming a Connection
This conviction applies to her constant work with using drumming to impact lives.
While working with ArtsConnection, a nonprofit providing arts initiatives for New York City public schools, she started a "journey" toward working with children on the autism spectrum.
Through her progressing work first as a performing artist, then a workshop leader, she created her own music engagement program, centered on percussion lessons for children with developmental and learning disabilities.
"It tailors lessons to meet their diverse needs, and capture their interest and imagination," she says.
Her program's drumming exercises focus on repetition, patterns, and call and response, to promote children's stamina, memory and interaction with others.
"I was inspired because by realization that utilizing the drum and rhythm has proven to become a wonderful tool in stimulating, motivating and changing special lives to reach their highest learning potential," she says.
As a teaching artist with The Smith Center, she has facilitated Southern Nevada Wolf Trap residencies at many CCSD schools and community organizations.
Across her 50-year career, she has worked with over 2,500 students.
Anyone can experience a transformation through drumming, L.A. says, adding that she teaches drumming to troubled teens, seniors, lawyers, nuns and more.
"The drum is a profound self-discovery instrument, which brings personal empowerment of strength and discovery of your truth," she says.
Learn More
To learn more about The Smith Center's Education and Outreach efforts, click here.