11/6/2019
Supporting the Arts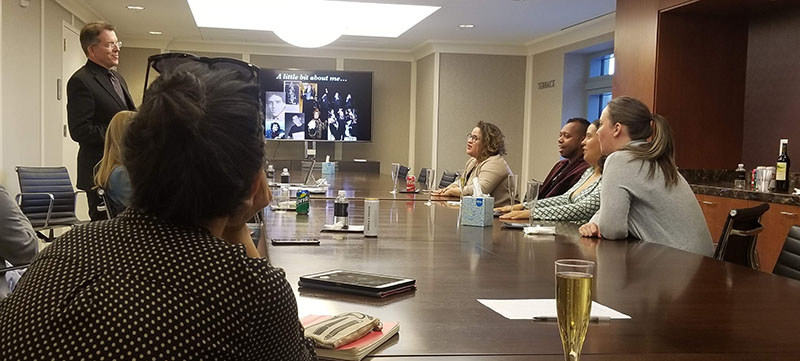 Rarely do young professionals get public speaking tips from acclaimed artists who make their living in the spotlight.
But members of Fanfare! ⁠— The Smith Center's networking and engagement group for young philanthropists with a passion for the arts ⁠— experienced that and more this fall.

At an exclusive event for the group, Fanfare! members enjoyed an up-close speaking engagement with celebrated performer Bruce Ewing, a solo recording artist who also starred in "Phantom ⁠— The Las Vegas Spectacular."
A beloved Vegas entertainer, Ewing shared insights from his career on how to incorporate the performing arts into participants' professional lives, including overcoming stage fright and self-doubt.
He specifically addressed why many feel intimidated with addressing a large group, and special tools speakers use to wow an audience.
Always eager to learn new things, Fanfare! Chair Monera Mason lauded the chance to hear a performer's insider perspective.
"Bruce was funny and made people feel at ease," says Mason, 37, a community partnership associate for arts-and-entertainment group Meow Wolf. "I do believe I will use some of the tips from the event to grow my speaking skills."
Beyond an opportunity to polish public-speaking techniques, the event also included karaoke and lite bites, allowing Fanfare! members to network with like-minded arts lovers and professionals from industries across Southern Nevada.
"It was a really fun way to meet very cool people," Mason says. "I met a lot of people that night, and can't wait for our next meeting."
She also appreciated the experience of engaging directly with an accomplished Vegas entertainer, tapping into Vegas' vast pool of artistic talent.
"I absolutely believe that the Vegas arts community is on the rise, and that the next five years will bring even more world-class talent to Las Vegas," she says.
This reflects the very reason Mason joined Fanfare! in the first place, as members' contributions directly support The Smith Center's many services as Southern Nevada's Heart of the Arts, including providing education and outreach initiatives and presenting hundreds of music, theater and dance performances each year.
"I joined Fanfare! because I wanted to begin my philanthropy journey with The Smith Center," Mason says.
The Benefits of Fanfare! Membership
Designed to connect The Smith Center with arts enthusiasts 21 to 39 years old, Fanfare! offers special opportunities to enjoy The Smith Center and Southern Nevada's arts-and-culture scene.
Membership includes exclusive experiences at The Smith Center, discounts to select shows and invitations to cultural highlights across the community.
Invitations to exclusive Fanfare! events throughout The Smith Center season
Networking with other young individuals and the leadership of The Smith Center
Developing new skills with teaching artists
Group volunteer opportunities
Advance notice of shows and special ticket offers
Special meet-and-greet opportunities
Are you a young professional who is passionate about the arts? Join Fanfare! here!