7/26/2019
Education and Outreach / Family Programming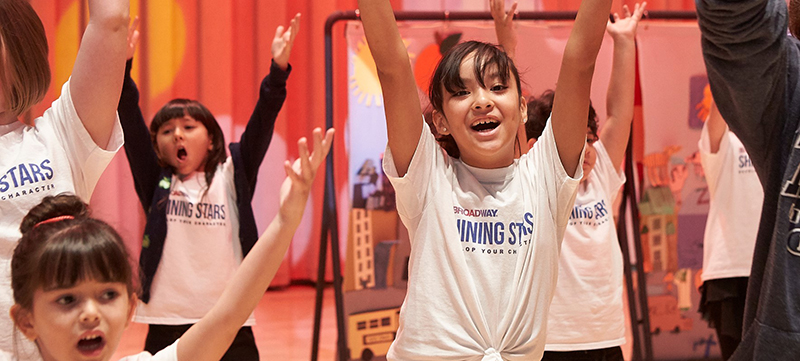 Jaelina Richardson admits she initially felt some self doubt this year at Camp Broadway, The Smith Center's eighth-annual summer theater program.
"I was really nervous preparing for a solo part, especially because other girls were also singing solos," says the 12-year-old Las Vegas resident, who returned for her second year at Camp Broadway this July. "It's a little nerve-wracking to know you're performing with girls who have grown (their talent) four to five years with this camp."
But Richardson's attitude changed during the weeklong Mainstage camp.
She worked closely with the camp staff members — all industry professionals hailing from Broadway, film and television — who guided her in key performance techniques, such as projecting her voice and polishing choreography.
Richardson quickly befriended the other campers she had feared, who she discovered shared her passion for theater.
She also invested herself in the camp's high-energy trainings, workshops and rehearsals, which she touts as "like coming to work, but having a blast."
Richardson not only nailed her solo, but she also embraced the "adrenaline rush" of performing the camp's finale production on stage in Reynolds Hall at The Smith Center.
"It has given me so much confidence," Richardson says of her Camp Broadway experience. "At the end of the day, I know I'm on this stage for a reason, and this is where I belong. Camp has done all that for me."
She's far from alone in experiencing this personal growth.
Richardson was just one of 150 participants in Camp Broadway's two weeklong, age-appropriate camps this July, where Southern Nevada children and youths learned singing, dancing, acting and other theater arts from top entertainment professionals.
The participants of Camp Mainstage, for youths ages 10 to 17, concluded their week with performing two musical productions in Reynolds Hall for friends and family. These performances of "Willy Wonka JR." and "Chitty Chitty Bang Bang JR." included full-scale, song-and-dance routines.
The Shining Stars Camp, for ages 6 to 9, also performed "James and the Giant Peach" in Troesh Studio Theater, complete with their own props they had crafted.
"I love to be on stage. It just feels so right," Richardson says of performing at camp. "Like this is where I belong, and I worked hard to get here."
Teaching More Than Theater
While Camp Broadway participants certainly learn comprehensive theater arts, says camp Director/Choreographer Sarah Lowe, the program focuses on instilling life lessons such as confidence, collaboration and work ethic.
"Kids are allowed to be their true selves in a theatrical environment," says Lowe, whose career includes performing in the Las Vegas production of "Mamma Mia" and serving as dance captain with "Jersey Boys" for nine years. "To watch a child come in who is shy and timid on day one, and then is singing a solo and performing on the stage by the end of the week, is an incredible reward."
For 12-year-old camp participant David Kildea, Camp Broadway not only gave him newfound confidence, but also seeded a love for performing.
Kildea enjoyed collaborating with other performers so much in his first year of Camp Broadway in 2018, he says, he went on to audition and join Rainbow Company Youth Theatre.
Naturally, he returned this year for Camp Broadway's Mainstage program, where his favorite experiences included learning new choreography with his friends, and then performing it on stage.
"It felt like we were doing something together," Kildea says. "I get to participate in something I've worked hard for. I really like the experience."
Richardson plans to continue returning to Camp Broadway because of the close friends she's made, and the chance to further hone her talent with experienced professionals.
"It's amazing to know you have people who really care, to help you do your best. It's really something to motivate you," she says. "I am always back for more."
LEARN MORE
To learn more about The Smith Center's Camp Broadway program, CLICK HERE.