10/16/2019
Discovering The Smith Center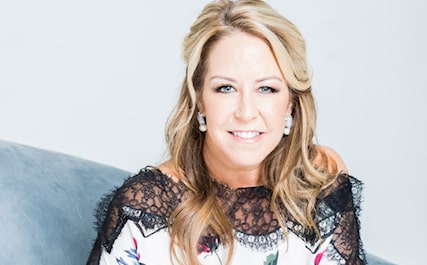 Few professionals in Southern Nevada's news or marketing industries don't know the name Blue Ash.
That's because the Las Vegas native has applied her fierce love for her city toward working for news organizations that have chronicled Vegas' transformation for decades, including KLAS-TV (Channel 8), the Las Vegas Review-Journal, Greenspun Media Group and Luxury Las Vegas magazine.
"Evolving alongside the city in each role, helping share the most important stories that have shaped Las Vegas over the decades, has been the highlight of my professional life," Ash says.
Now in her new role with The Smith Center as publisher and director of corporate partnerships and sponsorships, Ash applies her vast experience and lifelong knowledge of Vegas to helping Southern Nevada businesses partner with The Smith Center, a nonprofit organization.
Pursuing partnerships and sponsorships doesn't just allow businesses to connect with the center's hundreds of thousands of ticket holders each year, Ash notes. This also gives them opportunities to help the center present its hundreds of music, theater and dance shows, as well as provide education and outreach initiatives that have impacted over 700,000 Southern Nevada students.
"The magic for me is when we can join forces with a partner who shares and encourages our vision, as we believe in theirs, in order to present a meaningful and unforgettable experience for our community and patrons alike," Ash says.
A True Blue Native
Ash serves as an ideal fit for a performing arts center.
Raised by a jazz musician — who named his daughter Bluesette after a favorite jazz standard — she grew up immersed with iconic performers at Las Vegas showrooms.
"My fondest childhood pastimes include attending some of the most astounding shows ever to be produced on a Las Vegas stage," she recalls. "From rehearsals to showtime, artists such as Elvis, Liberace, Sammy Davis Jr., Wayne Newton, as well as Blood Sweat and Tears, are standouts."
Her deep roots in the Las Vegas Valley serve her well in her current role, she adds.
"I have a profound understanding of our city from a professional and personal point of view," Ash says. "I have the great fortune of working with a myriad of individuals who not only share the vast understanding of our business landscape, but who also share the great ambition of supporting our city's growth and wellbeing."
An Explosive Journalism Career
Working with Las Vegas' top news organizations gave Ash insights into the many sides of Vegas.
Her most noteworthy memories include the start of her career with KLAS, when the mafia fire-bombed the car of then-managing editor Ned Day, in the station's own parking lot.
"Fortunately, he wasn't in the car at the time and survived," Ash remembers. "But after the attempt on his life, we had bumper stickers made that read, 'This Is Not Ned Day's Car.'"
This experience only helped prepare her for the city's constant surprises.
"This only-in-Vegas story is just one of many that have punctuated my career," she adds.
Forging Promising Partnerships
Ash points to many ways businesses can work with The Smith Center to support the performing arts in Southern Nevadan.
These include category exclusivity (sole sponsorship of an event or show) with becoming a season sponsor for the center's Broadway Las Vegas Series, which includes blockbuster productions such as "Hamilton," "Jesus Christ Superstar" and 11-time Tony winner "The Band's Visit."
As a Smith Center partner, companies have the opportunity to sponsor performances by world-renowned artists such as Kansas, Grammy-winning trumpeter Chris Botti, the Alvin Ailey American Dance Theater and many more.
"I love this role because our partnerships develop far beyond a surface level. They become lasting relationships, since both parties become allies in authentically supporting one another," Ash says. "That's the community we wish to cultivate, and the community that I get to continue to grow."
Learn More
To learn more about pursuing corporate sponsorships and partnerships with The Smith Center, contact Blue Ash at [email protected].