4/3/2020
Education and Outreach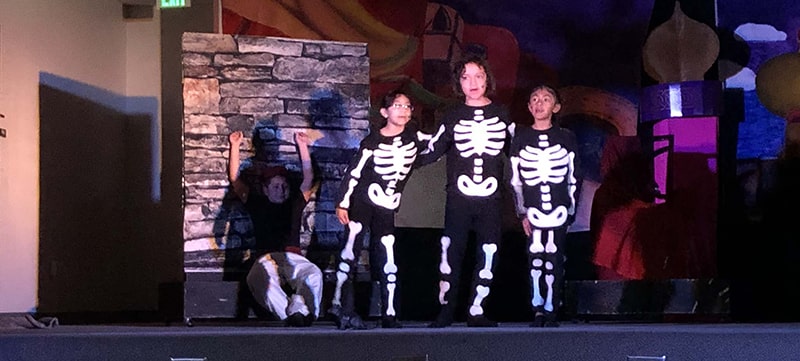 The Smith Center Helps Students Transform with Disney Musicals in Schools Program
As assistant principal with Richard J. Rundle Elementary School in Las Vegas, Stacey Sly felt true pride watching students perform the school's second-ever theater production this spring.
But seeing her 9-year-old daughter Lissa among them raised her reaction to pure astonishment.
"For a long time, I didn't know what her capacity was going to be, and to see her come this far was overwhelming," Sly says. "Once upon a time, I never dreamed it would be like this."
That's because Lissa — who the Sly family brought home at 8 days old and later adopted — has undergone intensive interventions and surgeries throughout her young life to overcome significant developmental delays.
Yet Sly witnessed a transformation in Lissa over the past year, with the girl suddenly socializing and eagerly learning new skills.
She ties this to Lissa's participation in the school's production of Disney's Aladdin KIDS, made possible through The Smith Center's Disney Musicals in Schools program.
As a nonprofit, the center offers this initiative to help under-resourced elementary schools create sustainable musical theater programs, all thanks to donor support.
To date, The Smith Center has helped over 40 Clark County School District schools create theater programs, giving students like Lissa an introduction to theater they might not otherwise have.
"This musical gave Lissa an outlet to develop confidence that she didn't have before," Sly says.
A Challenging Start
As Lissa marked the Sly family's seventh child, the parents quickly recognized developmental issues.
She had limited sight and was largely unresponsive. She didn't cry to be fed, and didn't smile or coo.
The Sly family worked with Nevada Early Intervention Services to pursue numerous therapies with Lissa every day, throughout the day.
"She didn't walk until she was nearly 2, and she didn't even smile until after she was 1," Sly remembers.
Lissa further underwent a double eye surgery at 5, and a heart surgery at 7.
"We didn't really stop to think about it. We just worked really hard, because we knew that it was her best chance," Sly says. "We were in the trenches doing everything we could."
A Surprise Request
With her family's love and support, Lissa today is a happy, healthy child. She enjoys swimming and speaks with an extensive vocabulary.
Yet through second grade, Lissa remained very reserved, with few friends.
That's why Sly felt surprised when Lissa asked to audition for the school musical.
"Initially, she said she wanted to be the lamp, and I said, 'I don't think that's a part,'" Sly says. "She knew if she was a lamp, she wouldn't have to talk."
A Sudden Transformation
When Lissa auditioned for the school musical, the show's director Kaylene Henderson saw right away the student had theater in her heart.
"What stood out to us is she can sing and sing and sing," says Henderson, also a learning strategist for the school. "I hadn't seen that side of Lissa before."
Lissa embraced the rehearsal process.
She attentively followed instructions from the music teacher, choreographer and stage manager. She worked closely with other students on learning choreography.
Sly had previously seen a theater spark in Lissa. She recalls Lissa being moved to tears when they saw Disney's "The Lion King" at The Smith Center.
"She told me later, 'I was just feeling all the emotions at the same time,'" Sly remembers.
Perhaps that's why the girl dived into her role as a skeleton.
Every night, Sly found Lissa acting out the show with her stuffed animals, drawing her staging directions and singing showtunes.
At the same time, Sly noticed a change in her daughter's behavior.
"Now on the playground, she wants to play with everyone," Sly says. "I think most of the kids in third grade know who Lissa is."
When Sly watched her daughter sing and dance on stage, she felt speechless.
"It was my turn to feel all the emotions at the same time," she says.
Changing Students' Lives
Lissa isn't the first Rundle Elementary student to blossom through the Disney Musicals in Schools program, Henderson says.
Many of the participating students hail from childhood traumas, she notes.
"In a theater production, they can become someone else," she says.
Through Disney Musicals in Schools, The Smith Center's teaching artists help school staff with every aspect of putting on a musical production, including teaching students lines, songs, choreography and behind-the-scenes support.
Throughout this process, Henderson observes students building life skills such as literacy, public speaking, teamwork and confidence.
"I think we're changing lives," Henderson says.
Lissa looks forward to participating in next year's production, Sly says.
Sly can't wait to see how the show affects other students, too.
"They learn that when you're working for something that has a purpose, everybody can pull it off together," she says. "You can't put that much effort into something and not have it change you."
Learn More
To learn more about The Smith Center's Education and Outreach initiatives, click here.