7/23/2019
Education and Outreach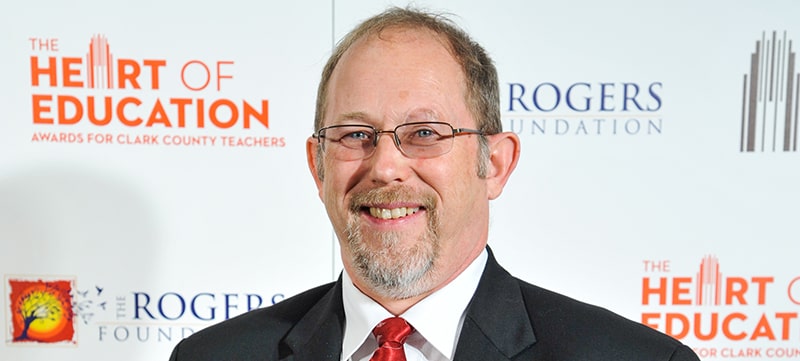 Students who walk into Richard Knoeppel's architecture class at Advanced Technologies Academy find much more than textbooks.
In fact, they dive into lessons using cutting-edge, industry-standard architecture software and hardware.
"It's really cool to see a student create a building model on a computer, and be able to walk through it in virtual reality," says Knoeppel, who has taught at Advanced Technologies Academy for 24 of his over 31 years as an educator. "This experience is putting them ahead of many college programs, and to a certain extent, some of the architecture firms in the valley."
Knoeppel made this possible through his tenacious efforts to secure $200,000 in grant funds, providing his students with the latest in real-world, professional technology, as well as special projects like constructing a working solar array.
"For the funds, it's about finding the right people and being persistent," Knoeppel says. "Writing a lot of applications also helps."
This marks only a fraction of recent accomplishments for Knoeppel.
He recently became one of 20 teachers out of over 700 finalists to receive a Heart of Education Award at The Smith Center's fourth-annual Heart of Education Awards, honoring outstanding Clark County School District teachers.
Knoeppel's recognition included a $5,000 cash gift and a $1,000 donation to his school. Naturally, he plans to apply his $5,000 toward more state-of-the-art technology in his classroom.
On top of this, Knoeppel also became an inductee in the National Teachers Hall of Fame this summer, making him the second Nevada teacher to ever do so.
In spite of these honors, Knoeppel still hails his greatest achievement as the success of his students — including the many now working as licensed architects.
"I look at the Las Vegas skyline and feel a great sense of accomplishment knowing that my former students played a role in creating that architecture," he says.
Helping Architecture Students Design Their Lives
For an educator whose subject focuses largely on lines and figures, Knoeppel's teaching style places strong emphasis on relationships and empathy.
"I teach my students about the importance of ethnic, cultural and gender perspective," he says. "I think to be successful, they need to appreciate different points of view and embrace how understanding them can make design more responsive to the people who will be using it."
This approach might be partly why his architecture program remains the only Career and Technical Education (CTE) program in Nevada to be recognized by Advance CTE, the National Association of State Directors of Career Technical Education, which honored his program with an Excellence in Action Award.
Knoeppel also strives to help his students change the trajectory of their lives, he adds.
This includes two students who he guided to becoming the first in their families to attend college, with one becoming a Questbridge College Match Scholar and the other earning several scholarships.
"These are only two examples of what it means to inspire students to make a difference in their lives," Knoeppel says. "Yes, it takes effort, you need to know your kids, there's a lot of paperwork, but aren't they worth it?"
Well-Deserved Recognition
Knoeppel values his recognition at the Heart of Education Awards because he shared the evening of celebration and entertainment with hundreds of other teachers.
"I was surrounded by my friends and other passionate education professionals," he says of the awards event, which included music performances and a speech by former First Lady of the United States Laura Bush.
His Heart of Education award, plus being inducted into the National Teachers Hall of Fame, "allowed me to see my impact as a teacher with a lot more clarity," he says.
Recognizing teachers for their impact validates all of their dedication and effort, he adds.
"Being in The Smith Center with teachers and administrators to celebrate the hard work and commitment educators show their students and community each day is really something hard to describe," he says. "It is something I will cherish forever."
Nominate a Teacher for The Heart of Education
Nominations will open Oct 1, 2020 for next year's Heart of Education Awards. For more information, click here.