11/13/2019
Education and Outreach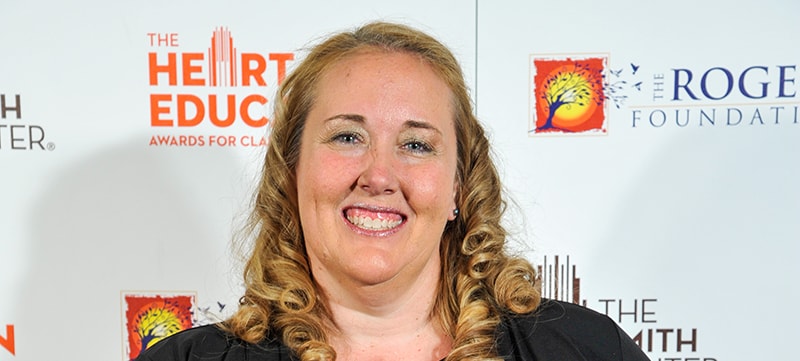 Nominations for Heart of Education Awards Open 
Not many high schools put on several theater productions a year.
Nor do many high school students have the chance to workshop with top-tier performance professionals.
But students enjoy all of this at Green Valley High School (GVHS), where teacher Jennifer Hemme has built a theater department recognized as one of the leading high school programs in the nation.
This includes providing her 240-plus students with groundbreaking learning opportunities — and ensuring each of them gets to perform on stage.
"For some of them, the applause is the spark that changes them," Hemme says.
Because of all this, Hemme was one of 20 teachers out of 700 finalists named a winner at The Smith Center's fourth-annual Heart of Education Awards, honoring outstanding Clark County School District (CCSD) educators.
Powered by the Rogers Foundation, this event honors finalists with a night of celebration and entertainment. The top 20 teachers each receive a $5,000 cash award and a $1,000 donation to their school.
Nominations are currently open for the sixth-annual Heart of Education Awards.
Hemme applied her cash award for two purposes: purchasing new equipment for the school's theater program, and buying a heart-shaped ring as a reminder of her hard-earned recognition.
"It was such a surprise and honor to receive a Heart of Education Award," Hemme says. "I went (to the awards event) expecting to celebrate the accomplishments of my fellow teachers, and was super surprised when I was escorted from my seat to the stage."
Rare Learning Experiences
Through Hemme's efforts, GVHS has performed more pilot productions than most high schools nationwide.
This includes working on pilot productions with Disney Theatrical Group and Music Theatre International.
These productions often provide opportunities for her students to collaborate with professional Disney creative team members.
"When we were doing 'High School Musical 2,' the authors came and got to work with the kids,'" Hemme remembers. "It was really cool for the kids to see what goes into writing a show and how you have to make changes through the process."
Working with Top Theater Professionals
Hemme also regularly brings in leading theater professionals to coach her students on and off stage, including world-renowned theatrical flying service Flying By Foy.
The school has incorporated Flying By Foy's training in many productions, allowing Mary to fly in "Mary Poppins" and for Ariel to swim through the air in "The Little Mermaid."
"You can't be good at everything," Hemme explains. "Using the resources around you and not being afraid to say, 'Hey, I don't know how to do this, can you teach me so I can teach the kids?' is important."
Recognizing Outstanding Educators
Hemme hails the fourth-annual Heart of Education Awards as an "incredible event."
She especially appreciates how the annual celebration honors teachers with a red carpet, swag bags and live performances.
This past event even featured surprise keynote speaker Laura Bush, former First Lady of the United States.
"(The Heart of Education Awards offers) a way to focus on the positive impact that teachers make in students' lives," Hemme says. "It provides a little hope and positivity."
Nominate a Teacher Today
Know a hardworking and inspiring teacher like Hemme? The nomination period for the sixth-annual Heart of Education Awards is now open.
"It just takes a few minutes to nominate someone," Hemme says. "The impact that nomination makes is long lasting."
Anyone can nominate an outstanding CCSD teacher at www.TheHeartofEducationAwards.org.