12/16/2019
Education and Outreach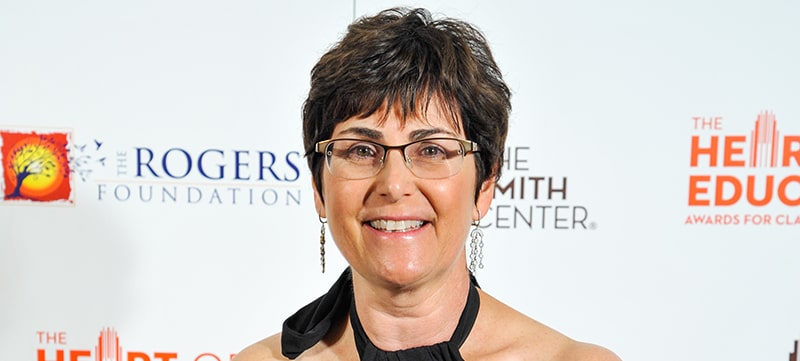 Math teacher Gayle Miller knew she faced a challenge several years ago when she started teaching Algebra 1 for ELL students (English Language Learners).
"About 90 percent of these students were newcomers to the country with little or no English language, and often interrupted or no formal schooling," explains Miller, now a teacher with Global Community High School.
Realizing that many ELL students had no more than a third-grade math education, she knew her Algebra lessons weren't what they needed.
That's why Miller created a special Saturday school, teaching ELL students about American currency, telling time, reading the calendar and additional topics to succeed in academics and living in the U.S.
She further worked with the Clark County School District (CCSD) ELL department to offer tutoring for ELL students failing or struggling with math.
"I strive to be my best and continue improving, because I am humbled by these students, their stories and their families' sacrifices for them to be here," Miller says.
For these inspiring reasons and more, Miller was among 20 teachers out of several hundred finalists named a winner at The Smith Center's fourth-annual Heart of Education Awards.
Honoring CCSD educators who go above and beyond, this awards program celebrates teachers with a red-carpet event featuring live entertainment and swag bags.
The top 20 teachers each receive a $5,000 cash award and a $1,000 donation to their school.
"So many teachers go above and beyond every day," Miller says of the importance in recognizing educators. "They spend hours grading, planning and worrying about their students. Nowadays we are not only teaching content, we are meeting social and emotional needs, as well."
Supporting Students in Need
Miller discovered many of her students needed additional support, when she transitioned to CCSD after teaching private school.
"Some needed food or a place to sleep. Some were in foster care because their parents were incarcerated," she says.
While she felt overwhelmed, "I knew I was in the right place," she adds.
To help students focus and succeed, Miller invests herself fully in mentoring students one-on-one.
This includes Miller logging over 200 hours of after-school and weekend tutoring, offering assistance with students' studies and guidance in their lives.
"They can tell I truly care about their success and am willing to go the extra mile to assist them," she says.
Celebrating Outstanding Teachers
Miller highly enjoyed the fourth-annual Heart of Education Awards, which included performances by comedian George Wallace and Vegas headliner Frankie Moreno. It also featured an address from surprise keynote speaker Laura Bush, former First Lady of the United States.
"It's like the Emmys or Grammys for teachers," Miller says. "You feel like a star that evening."
She felt "shocked and humbled" to win an award, she adds.
"I will always remember that moment when the usher at The Smith Center approached me and said he would be escorting me to the stage," she says. "From that moment on, everything became a blur because I was so nervous and excited."
She put her $5,000 cash award toward a vacation and supporting special events at school. The $1,000 donation to her school supported a school awards event.
She encourages Southern Nevadans to nominate teachers who make a difference in their lives.
"Most of the public doesn't really know what goes into teaching," she says. "Heart of Education nominees are at school for countless extra hours tutoring, or participating in extracurricular activities. They want what's best for their students and will do whatever it takes to see them successful."
Nominate a Teacher Today
Anyone can nominate an outstanding CCSD teacher for the fifth-annual Heart of Education Awards at www.TheHeartofEducation.org.