2/19/2020
Performances and Artists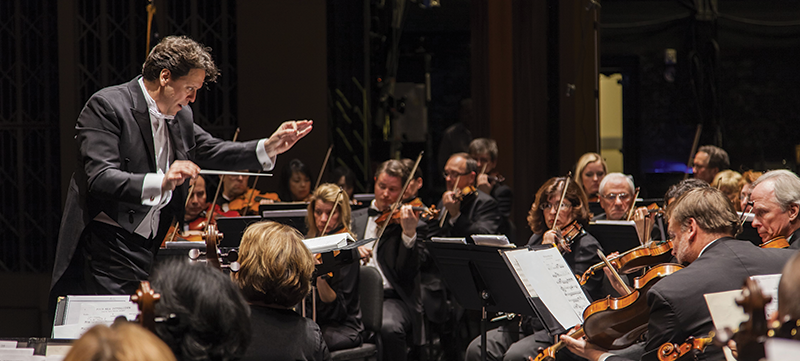 The Las Vegas Philharmonic to Present Concerts with Five Soloists on Five Stradivarius Violins
The first time De Ann Letourneau played a Stradivarius violin, its sheer volume forced her husband to cross the room away from her.
"The sound is so huge and comes right at you like a bullet," says Letourneau, concertmaster for the Las Vegas Philharmonic. "The sound fills the entire room, because it was meant to do that."
That's what makes the string instruments of Antonio Stradivari — history's most renowned instrument maker — so significant, she adds: they amplify every aspect of a player's technique.
"It's like an artist having every medium in front of them, to use at any given moment," she says, adding that a Stradivarius' overtones, or vibrations, produce uncanny pitch precision. "The goal of 90 percent of all great players is to own, or be able to play, on something of this level."
This March, the Las Vegas Philharmonic will bring several leading soloists together to do just that.
On March 7, Letourneau will join internationally acclaimed violinists Margaret Batjer, Adele Anthony, Cho-Liang Lin and Eugene Drucker on stage at The Smith Center, each playing a Stradivarius violin.
They will tackle dazzling repertoire showcasing the full versatility of these five historic instruments. This will include playing Vivaldi's The Four Seasons, one of classical music's most beloved works.
The five musicians will also give an intimate, chamber performance with the instruments on March 6 for Festa Stradivari, an exclusive concert experience including cocktails and a three-course Italian feast.
"There's never been anything even approaching this before in Las Vegas," says Donato Cabrera, music director for the philharmonic. "There has never been, at any one time, a group of famous soloists playing a collection of the world's greatest instruments in our city."
How to Play a Strad
Letourneau compares playing a Stradivarius violin to driving a Formula 1 car.
"If most of us who know how to drive got into a Formula 1 car, we'd probably crash," she says. "Everything is so hypersensitive — the touch, the gas pedal, the turns. The Stradivarius violin is exactly the same way."
That's why many performers require days, weeks and even months to "get to know" a Stradivarius instrument and adjust their performing, she notes.
"Each instrument has its own personality," she says.
The upcoming philharmonic performances excite her, Letourneau says, because the Stradivarius violins were designed for the music the soloists will perform.
"You're playing pieces written in the 1600s and 1700s, and you're playing on instruments from the 1600s and 1700s. This could be the violin the song was premiered on," she says. "How else can you bring that kind of history alive in one place?"
How to Get a Strad
Organizing these performances required finding top soloists who each had access to a Stradivarius violin, Cabrera says.
There are different ways for musicians to obtain one.
Letourneau has close ties to the Stradivari Society, a network of Stradivarius owners who loan out their instruments to top artists.
"Whenever I was playing a big concert, from the time I was 18, they've always stepped forward, 'you need an instrument? We'll see what we can do,'" she says.
Instrument retailers sometimes ask her to play violins that are for sale, she adds, as "it's better for (the instrument) to be heard and out there, rather than just sitting in a safe."
Many institutions such as banks and museums also own Stradivarius instruments they loan out to soloists, Cabrera says.
Letourneau emphasizes the rarity for several Stradivarius violins to be played side by side.
"If someone has never been to the symphony once, this is the concert to go and try it," she says. "It's the epitome of what classical is."