2/28/2020
Community Impact / Supporting the Arts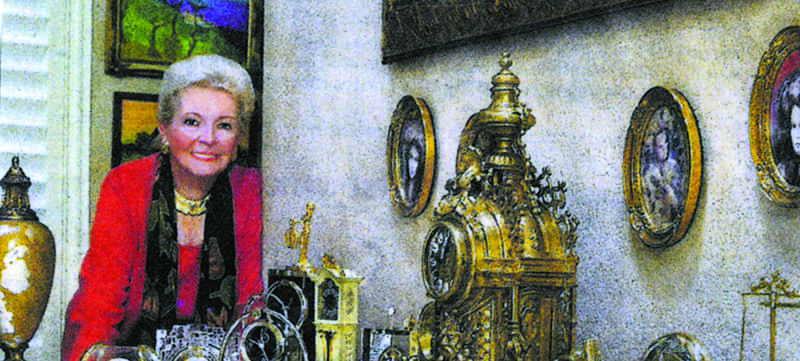 When Janice Haupt Allen attended The Smith Center's opening-night event, she shed tears of joy the entire evening.
"To be a part of this unbelievably beautiful auditorium was breathtaking," Allen remembers.
As a Smith Center founder, Allen helped make the center's opening possible with a donation of $1 million.
A Vegas resident since the 1940s — and one of the first reporters for the Las Vegas Review-Journal — she felt passionately about providing a cultural hub for community members."I knew this was a much-needed resource for Las Vegas," she says.
She now ensures this resource will remain for generations to come, through an additional $1 million donation to the Campaign to Sustain The Smith Center, aiming to secure the center's future.
"The Smith Center has had the biggest impact on the city of anything I can remember in all my years here," Allen says. "It will be here years after I'm gone, and that's what I dream of."
Nurturing Young Art Lovers
Most of Allen's favorite Smith Center memories stem from its education and outreach programs.
She feels a strong connection to the center's student matinee program, bussing in over 70,000 Southern Nevada students each year to experience inspiring performances.
"Where I grew up (in Ohio), we had to travel on a bus or train to see plays, and that made a big difference in my life," Allen says. "To see those school busses line up at The Smith Center, even 30 at a time, and see the children's excitement at attending a live performance, it brings tears to my eyes."
Shaping the City
Allen has played an active role in shaping Las Vegas.
The city's population totaled 10,000 when she first arrived in 1947 on her honeymoon, after flying 2,500 miles from eastern Ohio in their two-seater plane. Allen landed on a dirt runway where McCarran International Airport now sits.
She helped develop the city as a civic leader for over 70 years. This has entailed philanthropic donations to numerous nonprofits, and serving as president of six community organizations, including twice for the Junior League of Las Vegas who awarded her with a Lifetime Community Achievement Award in 2008.
A member of The Smith Center's President's Advisory Council since the nonprofit's start, Allen was also appointed by the governor to the Nevada Executive Ethics Commission.She inspires community members as a public speaker, including as the speaker for PBS' annual Victoria Tea at the Four Seasons Hotel Las Vegas, and she sponsors the PBS Masterpiece, Downton Abbey and Victoria series.
She further helped with the Las Vegas Sun Youth Forum as a moderator and chairman for 44 years. She also sponsors the Vegas PBS KIDS Writers Contest every year, and serves as a public speaker for the Vegas PBS Masterpiece Series.
In 2017 Allen was honored by the Association of Fundraising Professionals as Philanthropist of the Year for her deep devotion and commitment to the arts.
A Storied Journalism Career
Allen enjoyed a star-studded journalism career in Vegas.
She started working as a reporter in Ohio at just 17 years old, which followed with writing for national magazines for years.
In Las Vegas, she served as associate producer for a local entertainment TV show and produced a celebrity talk show on Caesars Cleopatra Barge for Merv Griffin.
Through her work, she got to know icons such as the Jackson Five, Debbie Reynolds, Tony Bennett and Liberace.
"These were the most creative years of my life," Allen said.
Perfect Timing
Allen has built another legacy, with her epic clock collection.
After she lovingly accrued clocks over several decades, "every inch of the spacious home has different collections," she says.
A couple decades ago, friends counted roughly 200 clocks, but she's amassed more since.
"I didn't mean to have a collection, but it just happened," she says.
Beginning with the first clock purchased from Vegas' legendary Bertha's Gifts, each clock has been carefully chosen for its complex machinations and stunning craftsmanship.
She purchased many as souvenirs of her world travels, spanning cloisonné clocks from China, cuckoo clocks from Switzerland and hand-carved clocks from Italy.
She doesn't mind that it takes a week to change their times when the U.S. springs forward and falls back.
Each clock represents a memory — just like the memories she hopes people make at The Smith Center.
"The Smith Center is going to be here for many, many years, and I'm proud to be able to make it happen," she says.
LEARN MORE
To learn more about supporting The Smith Center, click here.