6/14/2018
Supporting the Arts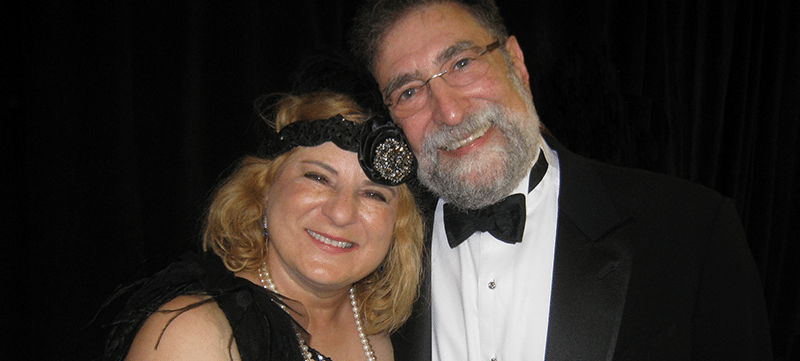 When Sheldon and Nancy Laube searched nationwide for a new city to relocate to, the couple chose Las Vegas for a specific reason.
"We decided this was a great city in the making, and one of the things that drew our attention was The Smith Center," says Nancy, who lived with Sheldon in Silicon Valley for many years before moving to Vegas over a year ago. "I don't think we would've moved here if The Smith Center hadn't become part of Las Vegas."
Both passionate arts lovers who enjoyed concerts and Broadway shows in San Francisco, the Laubes were amazed to discover they could enjoy the best of music, theater and dance all under one roof at The Smith Center.
"We thought a fundamental building block to being a great city was a performing arts center," adds Sheldon, an entrepreneur.
That's a large reason why the Laubes are now Members of The Smith Center, a nonprofit organization.
Through the Laubes' contributions as Members, they are excited to play a direct role in supporting The Smith Center and the performing arts in Southern Nevada – helping to ensure their new community offers the diverse experiences and high quality of life as other leading cities.
"It says something about Las Vegas as a whole that this is a community that wants to support the arts," says Nancy, a physician, fine art photographer and photo historian. "We're happy to provide financial support to continue The Smith Center's ongoing success."
Rallying Around the Arts – and the Golden Knights
Not only do Sheldon and Nancy regularly attend performances at The Smith Center, but they've also attended most Vegas Golden Knights home games.
To the active couple, both of these represent tremendous stepping stones for Las Vegas as a city.
"People used to question if there was room in Las Vegas for a performing arts center, the same as people asked if there's room for hockey in the desert," Sheldon recalls. "But when The Smith Center opened, it went beyond everyone's expectations, the same as the Golden Knights. Both have become a rallying point."
As Members, the Laubes' contributions support overall operations at The Smith Center, including its world-class performances and its education and outreach programs provided for tens of thousands of Southern Nevada students each year.
"We think The Smith Center is a wonderful thing," Nancy says.
Making Memories to Last
Sheldon and Nancy have already made lasting memories at The Smith Center.
Sheldon's favorite experiences include his first time visiting Myron's Cabaret Jazz, where he was enchanted by the 240-seat space's ambiance and menu.
Nancy especially loves the Founders Room — which she and Sheldon access as a result of their contributions — where they can mingle with community members before performances.
"Just having that camaraderie in the room and having a nice drink, they all add up to a great experience," she says.
The Laubes support The Smith Center so the whole community can make memories there.
"We just went to 'Hamilton,' and a friend of ours flew in to see it with us," Nancy says. "When we walked into The Smith Center and she saw this space, I was proud to say, 'This is the Las Vegas we live in, that has a beautiful performing arts center like this.'"
Learn More About Supporting The Smith Center
To learn more about supporting The Smith Center as a Member, please click here.