5/16/2017
Inside the Theater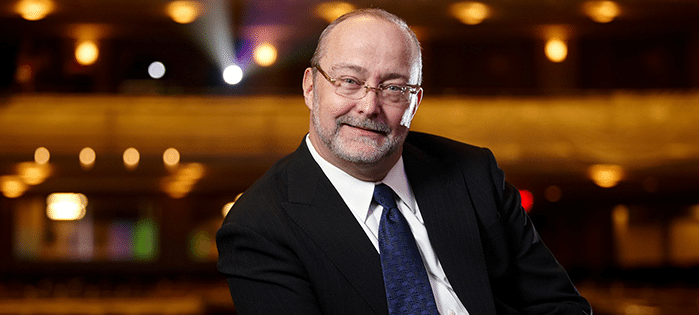 Updated Wednesday, May 17, 2017.
Glory, prestige and impressive ticket sales typically follow when shows receive Tonys, yet many people might be unaware of the thorough decision-making process behind each award. Although millions around the world watch the star-studded awards ceremony on TV each year, only a chosen few actually vote for Tony winners.
Fortunately, The Smith Center President and CEO Myron Martin is a member of this select group. Recently, Martin shared key insights about this exclusive voting process and what Broadway means for Las Vegas.
1. There are not many Tonys voters in Nevada. What makes you eligible to vote?
There are approximately 846 Tony Awards voters. That's it. When you think about the universe of Broadway people, that is a small number. The majority of them are voting members of The Broadway League (comprised of North American theater owners, operators, producers, presenters and general managers) in good standing. Then there are also the board members of American Theatre Wing, the Actors' Equity Association, the Dramatists Guild of America, the Stage Directors and Choreographers Society, United Scenic Artists and so forth. Tonys voters are representatives of the industry. I am a voter because of my standing with The Broadway League. And, in order to vote in each category, I have to see every show that has been nominated in that category.
2. Then you have to see a lot of shows each year. Not living in New York, how do you manage it?
That's the challenge. The majority of voters live in or near New York City. Even for them, it's sometimes hard to see everything. For those of us on the road, the out-of-town voters, which includes colleagues in L.A., Phoenix and San Francisco, it's a schlep. We have to schedule trips just to see shows. I know exactly which flight to take so I can get there in time for a show that day, or how long a Sunday matinee can last in order to make the last flight out. Incidentally, seeing every new show makes the decision-making process about what we should bring to Las Vegas much easier. We're not making decisions in a vacuum, but I am experiencing shows and leaving the theater knowing what will resonate with our audiences.
3. As a producer, you have unique insight into the shows you see. How does this make you a better voter?
I know how hard it is to produce a Broadway show, and I know how hard actors, directors, sound designers, choreographers, scenic designers – all the people who put their heart and soul into these productions – work. I can speak for all my colleagues when I say we take it seriously. We go into the theater knowing that people have put a lot of effort into mounting these shows, and we want to be the best audience members we can be. I always go back to the hotel room and make notes about what I've seen. I keep in mind how important it is that these shows get my full attention.
4. That sounds like….work. Do you have the opportunity to enjoy shows, even when you are evaluating them as a voter?
People tease me all the time when I say that it's work to be a Tonys voter. I get that. A lot of people would kill to see each new Broadway show. When you have to – when you are tired, life gets in the way, you've taken the red-eye to New York, you've seen four shows in three days – it really can be work. But sometimes, I'm totally surprised by something. I went to "The Color Purple" early in its run, before there had been a lot of buzz. I went knowing it was a revival and that I'd enjoy it. I left telling everyone I knew to run to New York and see it ASAP, because it was that good. Cynthia Erivo, the star of the show, knocked me out completely. Jennifer Hudson, who performed at (The Smith Center's) opening night, did a great job as well. It was a new production. The director did a remarkable job of truly rethinking this piece in a way that was totally compelling. I was so moved. And for me that's the bonus, when I leave the theater inspired.
5. When and how do you vote?
At the end of the season, about one month before the Tony Awards (which occurs in June). I get a registered letter from an accounting firm and in that letter is the official Tonys ballot. They have safeguards to make sure it gets to me, and that I am filling it out myself. I usually spend two or three days (deciding how to vote). I'll read through the ballot, look at all the shows and categories, look over playbills and my notes and reflect. In some cases, my vote is easy, and sometimes I'll go back and forth because more than one show or actor really knocked me out. I send it back certified to the accounting firm by a certain date and time, and it goes together with the other 845 ballots.
6. What significance do you think Broadway has for The Smith Center and Las Vegas?
People come up to me all the time and say "thank you for The Smith Center." They are now seeing Broadway (shows) in Vegas that never would have come here before, in a venue that they love, that is comfortable, that has great seats and sightlines and sound. They are no longer compelled to go to New York, but can see the shows here. We were the third or fourth city that "Hamilton" announced for its tour. Las Vegas has absolutely embraced Broadway and now Broadway has embraced Vegas as a key stop on tours.
7. Hamilton, a big winner at last year's Tony Awards, is slated to come to The Smith Center in 2018. Why do you think it swept so many categories? What made it stand out so much in the minds of the voters?
It was a game changer, and in some ways, a life changer. Here's a show that was based on an 800-page historical biography about Alexander Hamilton. If someone would have said to me, "We are going to do this show based on the biography of Hamilton," I would have questioned that. And then, if they had said, "We are going to tell the story through rap and hip hop." Hmmm. "And we are going to take the figures you know and change them up. Our George Washington is going to be black." Huh? But all that added up, and I was absolutely, thoroughly taken up with it from the second it started.
I was drawn into the story and the music. I felt a connection to the characters. I think it's wonderful that celebrities and politicians and kids and historians and people from across the country are lining up trying to buy tickets to see it. Lin-Manuel Miranda has created a new masterpiece and has changed the way people see Broadway. He has created something new and fresh and cool and hip. And kids are learning about American history in a wonderful new way.