10/8/2020
Discovering The Smith Center / Inside the Theater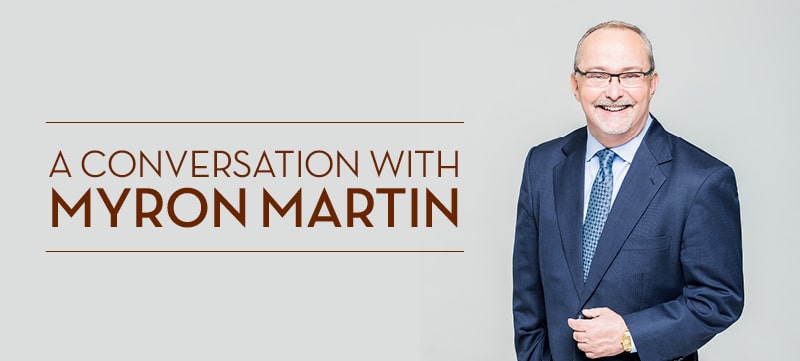 A Q&A with Myron Martin
Many Southern Nevadans were hopeful that they might be able to experience shows again at The Smith Center after Governor Sisolak raised the COVID-19 attendance cap on large gatherings - but reopening The Smith Center under the new rules just isn't practical.
As several other venues in Las Vegas prepare to reopen with restricted capacity, Smith Center President and CEO Myron Martin explains some of the challenges that continue to prevent The Smith Center from reopening in the near future.
Why don't the new rules make it possible for The Smith Center to reopen?
The new rules were a good step on the part of the Governor and I applaud him for it, but the reality is that the new capacity numbers just don't add up for The Smith Center. A world-class performing arts center like The Smith Center needs more than a maximum of 250 seats to reopen successfully. In this round of relaxed restrictions, we don't benefit because it would actually cost us more money to do a show than to stay dark.
Why is it more costly to have smaller audiences?
Spacing seats and tables farther apart isn't financially feasible and, in the long run, would only add to the losses we are incurring during the shutdown. As an example, 50% of 200 in Myron's Cabaret Jazz minus the 6-foot social distancing probably yields 50-60 people in the audience. A small show with 50-60 people still requires ushers, ticket takers, security, technical crews, parking, traffic, ticketing, and support from a wide variety of other departments. Selling 50 tickets at our average ticket price of $60 in Myron's Cabaret Jazz would gross $3,000 in total. This is not nearly enough to pay the artists and our team members.
What about events in Reynolds Hall?
An event with only 250 people in Reynolds Hall is equally costly. The average show requires at least 80% occupancy to break even due to our low margins so that we can keep tickets affordable. We could raise tickets prices, but this goes against our mission of making the live performing arts accessible to all in the community. What's more, an event in Reynolds Hall with only 250 people makes for a very empty room. I've said before that social distancing just doesn't translate well in a theater environment because, as we all know, the real joy and magic of theater comes from being surrounded by people and having a shared experience.
When do you think The Smith Center can reopen?
With 75% of our team currently furloughed, we cannot reopen until we are able to attract larger audiences, and until shows start touring again. Our patrons also tell us they will wait until it is absolutely safe, even though they are anxious to return to normal and buy tickets. In the big picture, waiting a bit longer to reopen is better than rushing to do so while the pandemic continues.
Is there anything that can be done in the meantime?
We need help from Congress in order to get to a place where we can reopen at any level. I am very pleased that members of the Nevada congressional delegation are supportive of the Save Our Stages Act and the RESTART Act, which would provide much-needed funding to live venue operators, producers, promoters and talent representatives in the entertainment industry whose business has been affected by the COVID-19 pandemic.
Are you hopeful for the future?
I have been gratified by the tremendous support we have received from the community during this challenging time in our history. When we had to cancel or postpone more than 450 performances for an estimated loss of $40 million, I said that we were going to need all the support we can get from the community and, fortunately, the community has responded. With continued support, we will reopen with a well-prepared and safe environment when the pandemic is under control. We can't wait to bring great music, theater and dance back to Las Vegas, and we can't wait to bring our amazing team back together. Be assured that when the time is right, The Smith Center will reopen.
To help support The Smith Center's Road to Reopening, click here.