4/20/2015
Supporting the Arts / Community Impact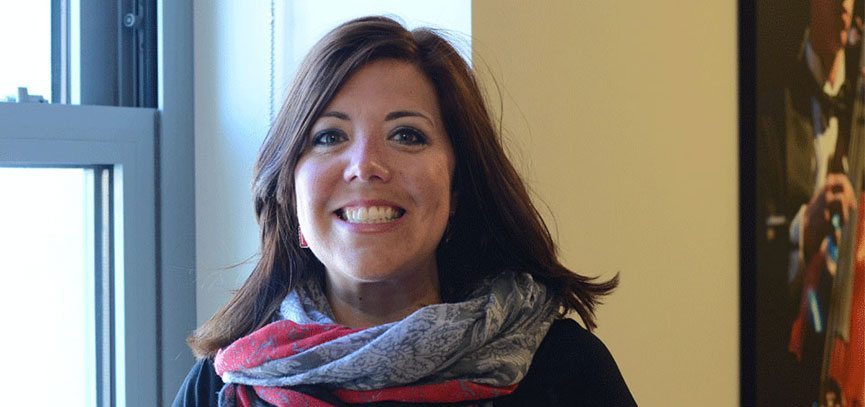 This week marks Administrative Professionals Week. As a busy organization with many moving parts, The Smith Center relies daily on a number of excellent administrative assistants. Each has tremendous skills and plays a vital role in the success of the company and what we offer the community. One such colleague is Rebecca Boyd.
Boyd works in our dynamic and very busy Education and Outreach Department, where she interacts on a daily basis with Candy Schneider, vice president of education and outreach, who sees firsthand the many duties Boyd continually tackles at once.
"It's difficult to describe everything that Rebecca does as an administrative assistant," says Schneider. "She's just an outstanding member of The Smith Center team."
Not only does Boyd act as the communications hub of the department, taking calls and greeting visitors at the front desk, she also helps coordinate educational programs presented by The Smith Center, such as student matinees. This not only involves the logistics of getting school buses filled with young students to performances, but in the hectic business of getting those excited kids to their seats and back.
Boyd has been with The Smith Center for more than five years. She started as a receptionist before Reynolds Hall and Boman Pavilion were fully built and open.
"She has worked in a variety of departments. She actually started with us as a temp," says Schneider. "We quickly realized how valuable she is."
In her time at The Smith Center, Boyd has also worked in our Development Department. She has brought two important attributes to bear in all her positions: excellent organization and superb people skills.
"Rebecca anticipates things. She has lists in every color that you could possibly imagine. She makes notes, and certain colors represent certain things," says Schneider. "She is just on top of every detail."
"She does a phenomenal job of customer service for the calls that we get. She knows quite a bit about the organization and can speak to almost everything and certainly direct people to where they need to be if it isn't an Education question," she adds.
Schneider says that The Smith Center and its educational programs are a perfect fit for Boyd.
"Rebecca loves kids. I believe – and she believes and has told me numerous times – that she is in the right place. She enjoys working with kids, she enjoys working with teachers and with parents," says Schneider.
Boyd agrees.
"I truly love what I am doing. I feel like I am able to 'give back' in some small way to the greater good. I know most of what I do is done in any admin position – emails, filing, answering calls, etc. – but I really do feel like I get to do more than just office work," remarks Boyd.
"I love working at The Smith Center and have loved all the positions I have been fortunate enough to have and I truly feel great coming to work each day in the position I have now. I am one lucky gal," she adds.
Everyone at The Smith Center says a big "THANK YOU" to all of the outstanding administrative professionals here at The Smith Center!