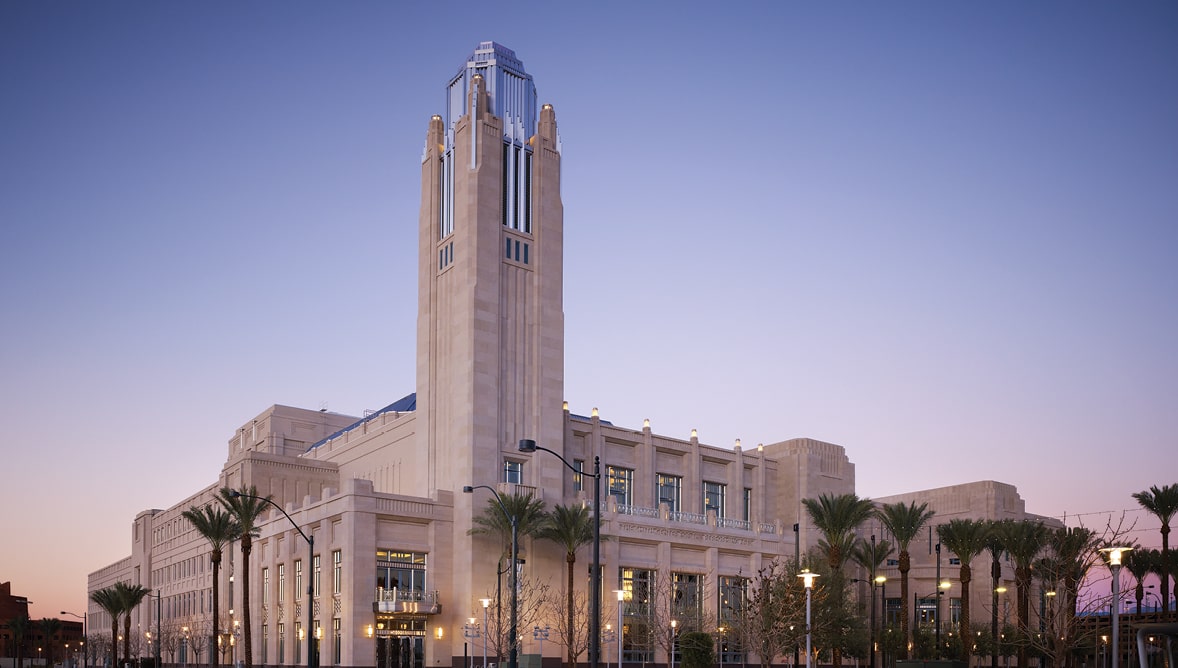 Explore the history and architecture of The Smith Center
Public Tours
"I thoroughly enjoyed my tour of The Smith Center. I got to see all the fantastic art and learn more about what goes on behind-the-scenes. I also got to learn so many interesting details about the building's history and its unique architecture."
-Smith Center Visitor
Covid 19 Update
In light of the actions from Nevada Governor Sisolak and the guidance by the CDC (Centers for Disease Control and Prevention) regarding COVID-19, tours at The Smith Center are currently unavailable.
The Smith Center's stages aren't the only places where it showcases beautiful art. The Smith Center features both visiting art installations and commissioned pieces throughout its campus, by Las Vegas artists and international artists alike. The Smith Center is an exhibit in and of itself, as its art deco architecture demonstrates.
Anyone is welcome to register for free, guided walking tours throughout the center, to learn about the art, architecture and history of The Smith Center.
Participants must register online. Tour dates will be listed online 30 days in advance. No pets are admitted other than service animals. Tours meet at the West entrance of Reynolds Hall in the Grand Lobby.
Please note that tours must be scheduled around performances and work calls of the technicians, artists and administrators who produce the center's shows. Every tour will strive to give attendees a full experience, but due to the center's active performance schedule, there is no guarantee that every tour will have the opportunity to view all venues on campus.
Tours last approximately 60 minutes, though may vary depending on the availability of all spaces and performance venues. 
"I love to give tours of The Smith Center. If the people haven't been here before, it's like opening up the most beautiful world to them. Once I get here and I start talking to people, I come alive."

Beverly Saperstein

Volunteer and Docent
Public Tours
Explore some of these beautiful areas of The Smith Center on your guided public tour.